Packaged Units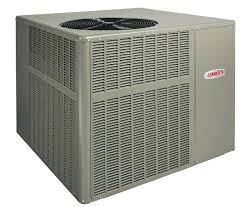 Compressor Type

Single-Stage

Efficiency Rating

14 SEER

Sound Rating

78dB
Lennox
Lennox LRP14HP Packaged Heat Pump
The Lennox LRP14HP is a "meat & potatoes" packaged rooftop heat pump. As you would expect from a premium brand like Lennox it does have good bones. Thinks we've come to expect from Lennox include; Copeland scroll compressor, wrap-around louvered coil protection, and an internally mounted condenser fan.
Lennox LRP14HP Heat Pump Efficiency Ratings
SEER (Seasonal Energy Efficiency Ratio) rating 14.00 (all sizes aka tons or tonnage)
HSPF (Heating Season Performance Factor) rating 8.00* (all sizes)
EER (Energy Efficiency Ratio) rating 11.00 EER (all sizes)
The LRP14HP is Lennox entry-level efficiency model. It meets the minimum standard for a new HVAC installation.
*NOTE: Efficiency based on HSPF Zone 4 (Arizona & the Southwest). As Magic Touch Mechanical is located in Mesa, AZ we service the Phoenix, Arizona area. Check with your local Lennox Dealer for HSPF ratings in your region.
Copeland Scroll Compressor
What is a scroll compressor? If you cut open a scroll compressor it would remind you of a spinning drill bit. If you cut open a semi-hermitic piston style compressor, it would remind you more of a car engine.
Scroll compressors are less susceptible to breakdown because there are fewer internal moving parts. They're also quieter than most piston style AC compressors.
Copeland is the manufacturer's brand name. Aside from a few brands that manufacture their own compressors like Trane and Mitsubishi, most manufacturers use Copeland today. In the past we saw brands like Tecumseh and Bristol used more often than in recent years. Copeland has proven to have a good track record for low failure rates. For that reason, we're fans of the compressor maker!
Lennox LRP14HP Package Heat Pump Sound Levels
The LRP14 heat pump sound ratings are not very impressive as compared to most of their other models. However, considering packaged units are typically installed on a roof, that may not affect the end-user so much.
This model is rated to operate at 78dB (decibels) in every size 2-5 tons.
Magic Touch Mechanical has installed hundreds of LRP14's throughout the Phoenix area. We've installed this model in both rooftop and ground-mount applications. We haven't received noise related complaints from those clients…so maybe we're just picky!
Lennox LRP14HP Rooftop Heat Pump Warranty
The Lennox LRP14HP packaged heat pump is backed by a factory 10-year warranty on the compressor, coils and functional parts.*
*Requires product registration within 60-days of installation. It's the homeowners responsibility to register the product. Magic Touch Mechanical includes registration with all new unit installs. However, not all HVAC Contractors do. If you're not in our service area, make sure to register your product yourself.
Lennox LRP14HP Package Heat Pump Summary
We recommend and install more than a half-dozen brands of heat pumps. In the last two-plus decades we've installed thousands of rooftop heat pumps in and near Mesa – Phoenix, AZ. Brands like: Trane, Goodman, Rheem, York, Carrier, Day & Night, Amana, American Standard and more.
We say that to fairly state the following: In our opinion, and this only applies to packaged rooftop units: The best built packaged unit brand on the market is Trane, and the best value (bang for the buck) packaged unit brand is Lennox.
Yes, we sell other packaged unit brands! We base that opinion on price, failure rate percentages, client feedback and surveys, durability, and name brand recognition when selling your home. This does not weigh in factory rebates or company sales.
The LRP14HP is, compared to other 14-SEER packaged heat pumps, a great value.
Are You Interested in Lennox LRP14HP Installation?
Choosing a new cooling and heating system is a 10-15 year plus commitment (unless you choose the wrong installing company). We work in thousands of homes around the Phoenix valley each year and unfortunately see the discomfort, aggravation, and expense their owners deal with when the whole "system" was designed and installed improperly.
Aside from things like free maintenance, an ACCA approved Manual J load calculation, optimized airflow design, and more, there are many things that set a Magic Touch Mechanical installation apart from the others: What's Included With This Installation?
Schedule a Free home evaluation & system design and compare units & prices side-by-side.
Other Products to Consider
Trane XR14c