Air Conditioners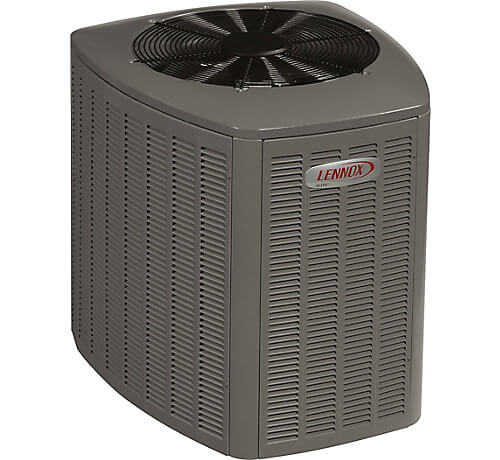 Compressor Type

Single Stage

Efficiency Rating

up to 17 SEER

Sound Rating

as low as 71dB
Lennox
Lennox EL16XC1 Air Conditioner
Lennox EL16XC1 Air Conditioner
The EL16 AC condenser paired with an AHRI matched evaporative coil and Lennox furnace, offers high efficiency ratings and fairly quiet operation without breaking the bank. While not as quiet or efficient as the next class up Dave Lennox Signature Series air conditioners, the EL16xc1 sits in the "sweet spot". It offers better features, efficiency, and sound levels than the class below Merit series AC units.
If your shopping habits tend to lean towards the "better" model vs. the "good" of "best" model – the Lennox EL16 is one worth serious consideration.
This Model's Air Conditioner Efficiency Ratings
SEER (Seasonal Energy Efficiency Ratio) ratings as high as 17.0 in cooling
Regional standards require a minimum of 14-SEER on all new air conditioners installed in Arizona. HVAC systems between 16-17 SEER fall into the high-efficiency category and yield approximately a 7-10% annual reduction in utility costs over a 14-SEER unit.
The EL16XC1 Utilizes a Single Speed AC Compressor
The single speed or single stage AC compressor is what most of us are already familiar with. As its name implies the compressor is either on at 100% power, or off. It lacks the high and low speed a two-stage offers, and the continual speed adjustments of a variable speed inverter. The argument can be made that although a one speed compressor can't offer the higher efficiencies or precise temperature control of the others – it's tried and true. With its simpler design, some HVAC Technicians believe there is a lower failure risk in this design. It's hard to argue with that line of thinking, however compressor failure in general is far less common today than even a decade ago.
Lennox EL16XC1 Sound Ratings
One of the factors Lennox considers when classifying which family their products belong in is noise levels. The EL16 earns "Elite" status in part because it is quieter than the Merit Series models. While not almost silent like Signature Series models that get as low as 59 decibels (about the sound level of a normal conversation) the EL16XC1 is fairly quiet for an AC unit.
Sound levels are measured in decibels (dB). The Lennox EL16's measured decibel ratings are as low as 71dB. Quiet enough that you can sit in your yard peacefully reading a book without it disturbing you.
Lennox EL16 Manufacturer Warranty
Many people don't realize or never get informed that the factory warranty on their new AC unit is reduced to only 5-years if not registered. Or that many warranties get shorter if you sell your home. The fine print requires the homeowner to register the new unit within 60 days. Unfortunately, we've seen many people lose coverage because the installing contractor never made them aware of this fact.
When you hire Magic Touch Mechanical to install your Lennox EL16 AC unit, we'll register all the equipment on your behalf!
The Lennox EL16XC1 comes with a 5-Year parts and compressor warranty unless registered. With registration Lennox provides an additional 5 years coverage for a total of 10-years (to the original homeowner).
Lennox EL16XC1 Summary
Of the dozens of Lennox air conditioner models we recommend, the EL16 is one the most popular amongst buyers. It offers good bang for the buck and is a good value for the price in our opinion. This is a newer design is based on an older model which stood the test of time and proved to be durable and reliable. Considering the upgrades it recently received, which made it both more efficient and quieter, it's no wonder we install so many of them!
Most would agree its closest competitor of the premium brands is the Trane XR16 which offers equal efficiency, sound ratings, and upfront investment before rebates and promotions. If the EL16 seems like everything you are looking for, we suggest you do a side-by-side comparison with the XR16 using our Product Comparison tool. Either way we think you can't go wrong!
Are You Interested in Lennox EL16 Installation?
Choosing a new cooling and heating system is a 10-15 year plus commitment (unless you choose the wrong installing company). We work in thousands of homes around the Phoenix valley each year and unfortunately see the discomfort, aggravation, and expense their owners deal with when the whole "system" was designed and installed improperly.
Aside from things like free maintenance, an ACCA approved Manual J load calculation, optimized airflow design, and more, there are many things that set a Magic Touch Mechanical installation apart from the others: What's Included With This Installation?
Schedule a Free home evaluation & system design and compare units & prices side-by-side.
Other Products to Consider
Trane XR16
Lennox XC16
Goodman GSX16