Heat Pumps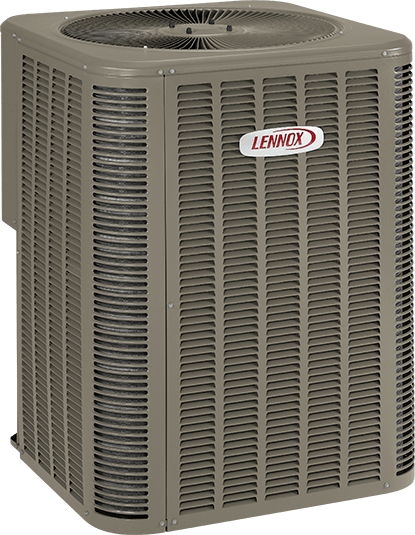 Compressor Type

Single-Stage

Efficiency Rating

up to 16 SEER / 8.2 HSPF

Sound Rating

as low as 76dB
Lennox
Lennox 14HPX Heat Pump
Lennox 14HPX Heat Pump
If you are ready to replace an older heat pump in your home and are on a tight budget, the Lennox 14HPX may be the right model for you. This single-stage aka 1-speed air conditioner and heating system is part of the Lennox Merit Series. It's the meat and potatoes heat pump of the Lennox family.
Magic Touch Mechanical has installed hundreds of 14HPX heat pumps and it's cooling only sibling the 14ACX all over Arizona from Peoria to Apache Junction – Sun Lakes to Cave Creek. While it may not be a chart-topper in the bells and whistles department, it is a reliable, durable unit that gets the job done! At the end of the day, this model is still carries Lennox's premium name and reputation for quality so you can count on it lasting a long time.
Lennox 14HPX Heat Pump Efficiency Ratings
SEER (Seasonal Energy Efficiency Ratio) ratings as high as 16 in cooling mode
HSPF (Heating Season Performance Factor) ratings as high as 8.2 in heating mode
The 14HPX can be matched with several different Lennox air handlers from both their Merit and Elite Series. Efficiency ratings achieved will range between 14 SEER and 16 SEER depending on the one you choose. This presents homeowners with the unique opportunity to get high-efficiency performance out of a standard-efficiency condensing unit. More for less is always a good way to buy anything which is probably why we install a lot of this model.
Single-Stage Scroll Compressor 
Scroll compressors are more reliable than the compressors of yesteryear because they have less moving parts. The scroll compressor in the Lennox 14HPX heat pump is covered by a 10-year factory warranty when installed with a matching Lennox air handler and coil*
*Standard warranty is 5-years compressor if not installed with matching components.
Lennox 14HPX Sound Ratings
If you've read any of our product reviews or side-by-side comparisons you already know we call it how we see it. We don't work for Lennox, Trane, Goodman or any of the other brands we install -we work for you! That said, we wish the 14HPX was quieter. With operational sounds measured as low as 76db (decibels), it's hard to call it quiet like we can with so many other Lennox models.
If you want to know a comparable appliance that operates in that sound range, the closest thing would be a vacuum cleaner. If your outdoor unit is not directly under a bedroom window, that may not be an issue for you. However if noise is on your list of concerns, this model may not be your best choice.
Lennox 14HPX Factory Warranty
In order to guarantee parts coverage for 10-years with this model, the following is required: Registration within 60-days of installation and it must be installed with a matching Lennox air handler (indoor unit). If either of those conditions aren't met the 14HPX comes with a standard factory warranty of 5-years on the compressor and functional parts.
NOTE: It's no longer legal to install a condenser only if not paired with a certified AHRI (Air Conditioning, Heating, and Refrigeration Institute) matching air handler (or furnace and coil). This was common practice years ago, however new efficiency standards mandated by the US Department of Energy require all HVAC contractors in Arizona to comply with the new regional standards.
It's also important to note that on any units not covered by a "box warranty" need to be registered within 60-days or warranty is reduced to the standard warranty. When Magic Touch Mechanical installs a new heat pump system, we register it for you so you are covered by the 10-year extended warranty. If you are not in our service area (central Arizona), make sure you register your unit to avoid losing half of your warranty!
Lennox 14HPX Summary
For those on a tight replacement budget, the 14HPX sits in the "sweet spot". It's the lowest priced Lennox on the market today, but matched with the right air handler can achieve 16-SEER efficiency which is considered high-efficiency. Those lower utility bills can be helpful for anyone who wasn't expecting to lay out the money needed to replace their air conditioner and heating system.
Let's face it, nobody buys a new heat pump because they have nothing better to do with their money. Most often people replace their air conditioning and heating equipment because repairing an older one is not an option or their existing unit is so inefficient it no longer makes sense not to keep it. For that reason we have installed thousands of 14HPX's over the years.
This model is a workhorse and although it's not fancy, it is well built, durable and reliable. The Lennox name adds value if you ever decide to sell your home as people recognize it as one of the premium brands.
Are You Interested in Lennox 14HPX Installation?
Choosing a new cooling and heating system is a 10-15 year plus commitment (unless you choose the wrong installing company). We work in thousands of homes around the Phoenix valley each year and unfortunately see the discomfort, aggravation, and expense their owners deal with when the whole "system" was designed and installed improperly.
Aside from things like free maintenance, an ACCA approved Manual J load calculation, optimized airflow design, and more, there are many things that set a Magic Touch Mechanical installation apart from the others: What's Included With This Installation?
Schedule a Free home evaluation & system design and compare units & prices side-by-side.
Other Products to Consider
Trane XR14
Goodman GSZ14