Thermostats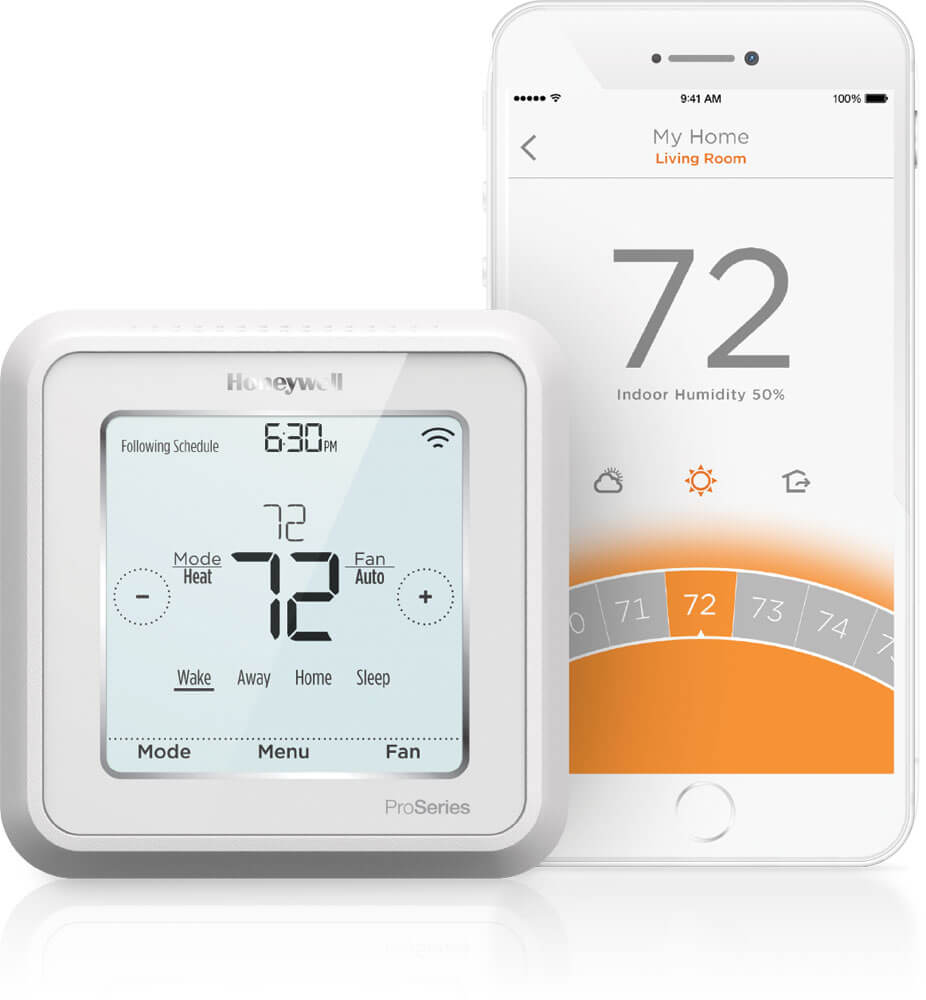 Energy Star Certified
Honeywell Thermostats
Honeywell Lyric T6 Pro Wi-Fi Thermostat
Honeywell Lyric T6 Pro Wi-Fi
Honeywell has long been the industry leading thermostat manufacturer. In fact years ago a study was done to see if people knew what brand their central air conditioner was – the most common response, "Honeywell.".
What's funny about that is Honeywell has never made an air conditioner! It's just that we've all seen Honeywell written on our thermostats day in and day out our whole lives.
Speaking of thermostats we noticed a recent trend online. Thermostats with nothing but great customer reviews were proprietary (only sold to contractors – i.e. contractor installed). Models with lots of negative reviews were non-proprietary – sold online or at big box stores. In reading the comments, it was clear most of the negative comments were the cause of improper installation and/or setup.
In other words, take thermostat reviews with a grain of salt!
Honeywell Lyric T6 Pro Wi-Fi Features
Wi-Fi Connectivity / Remote Control
Connecting the Honeywell Lyric T6 Smart Thermostat to your home's Wi-Fi network, gives you access from anywhere. Adjust temperatures and change settings from anywhere in the world.
Location-Based Temperature Control
The Honeywell Lyric T6 uses your  smartphone location to automatically adjust settings. This helps to save energy when you're out and about, and helps assure you are comfortable the moment you arrive home.
Works with Apple and Alexa
The Honeywell Lyric T6 works with both Apple HomeKit and Amazon Alexa,  so you can control all of your smart home devices from one application.
Energy Star is tough on programmable thermostats when it comes to earning their certification. Simply being programmable isn't good enough anymore. The thermostat has to truly demonstrate it saves a significant amount of energy to qualify. The T6 has proven it does.
'Merica!
Schedule up to four different temperature settings for each day of the week / weekend. Gives complete flexibility for changing work and play schedules.
The Honeywell Lyric T6 Thermostat is simple to use and it's large backlit display make it easy to see day or night.
The Lyric T6 Pro Thermostat learns your air conditioning and heating commands, temperature settings and cycle times. It uses what it learns to make automatic adjustments.
Auto Changover from Cooling to Heating
For those mid-season days when it gets chilly at night but hot during the day (sound familiar to anyone in Phoenix, AZ?), the T6 Pro can automatically change from air conditioning to heating. So now matter what temperature you have set to keep your family comfortable – it's always there.