Heat Pumps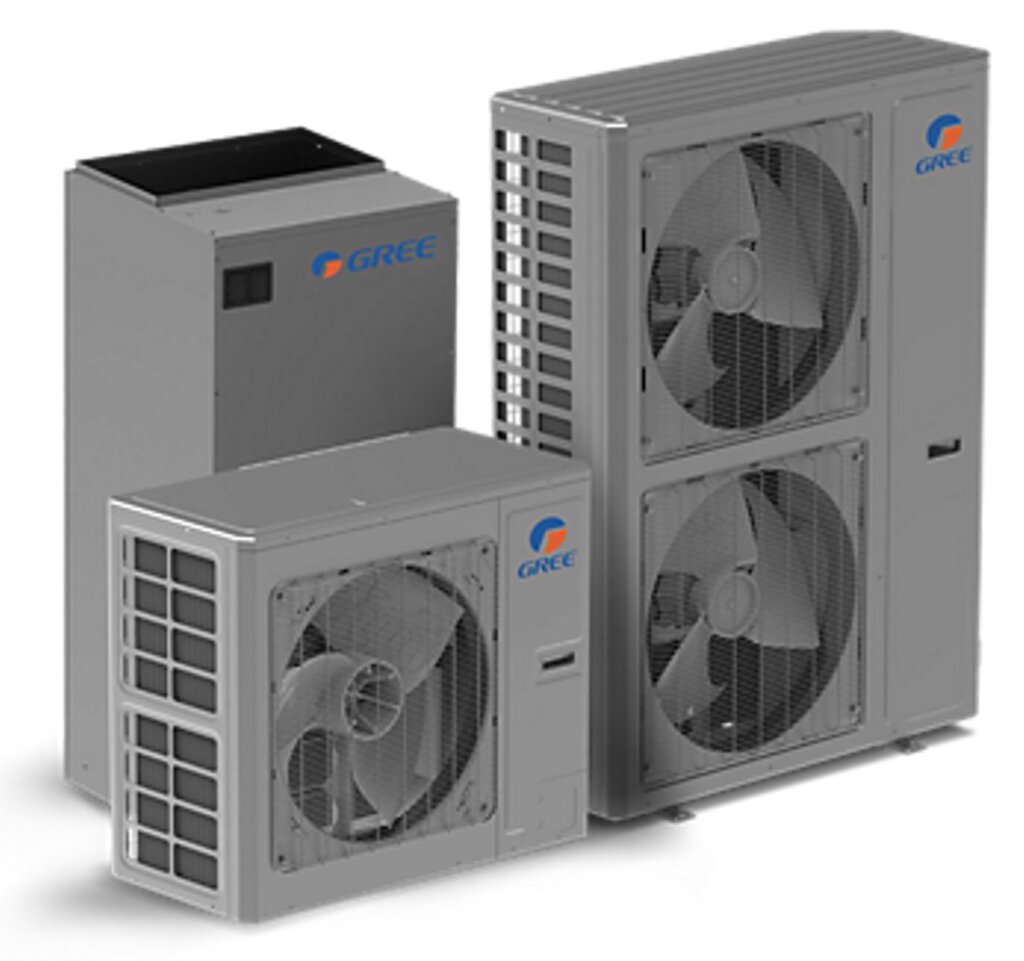 Compressor Type

Variable Speed

Efficiency Rating

up to 20 SEER / 10.5 HSPF

Sound Rating

as low as 45dB
Gree
Gree Variable Speed Heat Pump
Gree Variable Speed Heat Pump
Despite the fact that 1 in 3 heat pumps installed in homes now are made by Gree, most people in the U.S. have never heard of them. That's because Gree currently (or has in the past) made equipment for brands like Trane, Lennox and others. The "white label" air conditioners they produce may have another companies name on the unit … but it's a Gree!
Homeowners in Europe, Asia, and South America are well aware of the Gree brand as they dominate those overseas markets. Much like Mitsubishi & Bosch who most Americans didn't know much about a decade ago have become homeowner favorites, Gree is making its mark here. One of the more exciting new variable speed heat pump systems to hit the U.S. market is the Gree Flexx.
The Gree Flexx isn't the first to utilize a side-discharge (mini-split style) outdoor unit with a full-size (conventional) air handler indoors. However, they're one of the first to 'get it right', and most importantly – make it very affordable! In fact, the Gree Flexx is the first side-discharge variable speed heat pump inverter to sell for thousands less than Trane, Lennox, Carrier and yes, even Bosch!
Gree Flexx Variable Speed Heat Pump Efficiency Ratings
SEER (Seasonal Energy Efficiency Ratio) ratings as high as 20.0 in cooling
EER (Energy Efficiency Ratio) ratings as high as 12.5
HSPF (Heating Season Performance Factor) ratings as high as 10.5
The Gree Flexx makes high-efficiency more affordable with SEER ratings up to 20.0, EER ratings up to 12.5, and HSPF ratings as high as 10.5. You'll save thousands of dollars with lower power bills over the lifetime of the unit with ratings like that. Even better, you'll save thousands more at the time of purchase thanks to the lower upfront cost of the Gree Flexx variable speed heat pump.
Gree Flexx Variable Speed Inverter Driven Compressor
If you've been reading our blog articles, you already know variable speed inverter technology offers the best comfort available today. Far superior to two-stage equipment and leaps and bounds better than single-speed compressors, nothing else compares. That's not us saying it, that's what homeowners say!
The Gree Flexx variable speed heat pump utilizes the same compressor technology used in their mini-split ductless units throughout the world. This technology eliminates the "hard start" single & two-stage compressors endure making them more reliable and longer lasting.
Industry Leading Low Sound Ratings
Homeowners demand quiet air conditioners and heat pumps nowadays. Those of us that endured years of the noisy compressors and air handler fan motors of the past just 'had enough!' Many manufacturers delivered too. When we first heard the low noise levels of premium units from Lennox, Bosch and Mitsubishi, to say we were impressed was an understatement. The Gree Flexx is 'next level' quiet! With decibel ratings from the indoor unit measured as low as 45dB, and 62dB at the outdoor unit, you won't have to turn up your TV's volume anymore. 
To put those sound ratings in perspective: A human conversation is ~50dB-60dB. Gree Flexx claims sound ratings as low as 45dB.
Pro Tip: Always make sure to hire the best installing company even with the best equipment. Even quiet units aren't quiet if installed poorly!
No Overpriced Proprietary Thermostat Needed
One trend we're not fond of in the HVAC industry is the manufacturers designing AC & Heating units that require the use of their own proprietary thermostat. Sure, most of these thermostats are packed with features and are actually quite attractive, but they're also very pricey (captive audience). The Bosch heat pump can be used with almost every Smart Wi-Fi  thermostat to the most basic thermostat on the market today. That means you can keep your Ecobee, Nest, or Honeywell you love, or upgrade to the one you want – not the one you're forced to buy!
Better Warranty When Installed by a Gree Select Dealer
If you know Magic Touch, you know we're recognized nationally for our training program. Some of the best technicians and installers in the country got their start at Magic Touch. You also know we won't sell equipment we don't know inside and out. So of course, we are a factory-trained Gree Select Dealer!
When purchased through and installed by a Gree Select Dealer the Gree Flexx parts warranty is upgraded to a full 10-year parts & compressor warranty. 
Note: When not installed by a qualified Gree Select dealer the warranty is reduced to 5-year parts.
Gree Flexx Inverter Heat Pump Summary
Years ago, when we first told you about the Bosch Heat Pump, we said it was a game changer. Turns out that was an accurate prediction as for years it has been our best selling variable speed heat pump. Today our advice to Bosch is – watch out for Gree! 
Gree is by no means new to the market. In fact, they're one of the largest air conditioner and heat pump manufacturers on the planet. Like Bosch was years ago, Gree is somewhat new to U.S. consumers. For homeowners shopping for a new heat pump system, we have a feeling they're going to become "known" pretty quickly the same way Bosch did. Not only do they offer the best technology & high efficiency at a lower price than their competitors – they have another ace up their sleeve. The Gree Flexx is the first to make side-discharge condensers matched with central air indoor units affordable.
Are You Interested in Gree Flexx Heat Pump Installation?
You've probably already noticed something very different about Magic Touch and our competitors in Arizona – we sell 12 brands, they sell 1 or 2. That's because we separate ourselves not by 'pushing' a particular brand, but by installing them better! We call our unique sales process, "options, not ultimatums," because we'll help you find the right system for your home, your budget, and your wishlist. We're the only air conditioning contractor in Arizona that not only offers 12 brands, but hold the factory trained certifications of every brand we sell!
Whether you're interested in a Gree Flexx, Bosch, Lennox, American Standard/Trane, Goodman/Amana, or other top brand we'll help you compare!
What's Included With This Installation?
Schedule a Free home evaluation & system design and compare units & prices side-by-side.
Other Products to Consider
Bosch Premium
Lennox SL28
Mitsubishi MXZ