Air Conditioners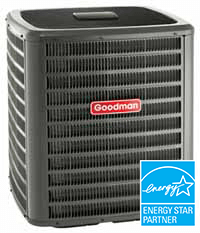 Compressor Type

Two-Stage

Efficiency Rating

up to 19 SEER

Sound Rating

as low as 68dB
Goodman
Goodman GSXC18 Air Conditioner
Goodman GSXC18 Air Conditioner
Goodman manufactures their products under several other names like Amana, Daikin, and Franklin. You may even own a Goodman unit and not know it if you purchased it from one of its private-label contractors. For example, Magic Touch Mechanical has a private label agreement with Goodman under the brand name Magic Touch Air. What that means is we are allowed to sell their product "re-badged" as the MTA.
Years ago, when Goodman was manufacturing the Janitrol, we refused to sell any of their products because they didn't meet our high standards. In the past decade however, many Goodman models can stand toe-to-toe with their competitors. Keep in mind that an air conditioning and heating system is only as good as the installation. Any unit not installed to manufacturer specifications will not perform well or have a long life. Goodman was already one of the largest manufacturers in the USA prior to being purchased by Daikin. With that purchase completed, they are now one of the largest in the world.
The GSXC18 air conditioner is the Daikin Group's premium unit manufactured under the Goodman brand name and is a 2-stage unit. If interested in a variable-speed unit, see our page for the Franklin AVZC20 (this model is also manufactured under the name Amana).
GSXC18 Air Conditioner Efficiency Ratings
SEER (Seasonal Energy Efficiency Ratio) ratings as high as 19.0 in cooling
The Goodman GSXC18 achieves up to 19 SEER (Seasonal Energy Efficiency Rating) when matched with an AHRI rated Goodman indoor coil and furnace.
Two-Stage AC Compressor
With the exception of Trane who builds their own AC compressors, most manufacturers install compressors made by others. In the case of the Goodman GSXC18, they use a two-stage aka 2-speed compressor made by Copeland. While not quite the "tank" Trane's compressors are, most service technicians would probably agree Copeland makes some of the stoutest compressors built today. This is probably the reason Goodman offers a limited lifetime warranty on this compressor.
There are three types of air conditioning compressors: Single Speed (GOOD), Two-Stage (Better), Variable Speed (Best).
Goodman GSXC18 Noise Levels
With it's lowest decibel rating at 68dB and larger units rated as high as 74dB's when running at full capacity, the GSXC18 is comparable with other units in its class. It's quiet enough that it wouldn't be accused of disturbing the peace, but not as quiet as most of the variable speed units on the market. To put those numbers in perspective, this unit puts out about the same sound you might expect from many dishwashers or washing machines.
Goodman GSXC18 Factory Warranty
Like most of its competition in the two-speed air conditioner category, Goodman backs all functional parts in the GSXC18 with a 10-Year limited parts warranty. Where they stand apart from the rest of the crowd is the limited lifetime compressor replacement warranty the GSXC18 comes with. If the compressor ever fails, Goodman will provide a new compressor to the original purchaser.
Note: Goodman's lifetime compressor warranty does not cover labor or ancillary items required with compressor replacement. Warranty applies to original homeowner/purchaser only.
Goodman GSXC18 Summary
You could do a lot worse than the GSXC18 when purchasing a two-stage central air conditioning system. Sitting side by side with some of the more "premium" brand names, you might be hard pressed to find major differences. Granted, some of the 2-speed offerings from Trane and Lennox are definitely more popular with our clients, but we have our fair share of Goodman fans as well.
Considering this model can run as much as $2,000 less than some of its competitors (before rebates and incentives), we think it offers a lot of bang for the buck.
One word of caution regarding the Goodman brand – choose who installs it wisely. Goodman allows just about anyone with a pulse to purchase their products unlike other brands who vet their contractors more thoroughly. There are even companies around the country selling new AC units online – some of which say they have already pre-vetted contractors for you and will include the installation to save your thousands. You are not saving thousands…you are getting less! Interview and choose the contractor you trust (who has completed a load calculation, duct design, etc.) – you have to live with your choice for a very long time!
Are You Interested in Goodman Air Conditioning Installation?
Choosing a new cooling and heating system is a 10-15 year plus commitment (unless you choose the wrong installing company). We work in thousands of homes around the Phoenix valley each year and unfortunately see the discomfort, aggravation, and expense their owners deal with when the whole "system" was designed and installed improperly.
Aside from things like free maintenance, an ACCA approved Manual J load calculation, optimized airflow design, and more, there are many things that set a Magic Touch Mechanical installation apart from the others: What's Included With This Installation?
Schedule a Free home evaluation & system design and compare units & prices side-by-side.
Other Products to Consider
Trane XR17
Trane XL18i
Lennox XC16
Lennox XC21
Goodman DSXC16
Goodman DSXC18