Air Conditioners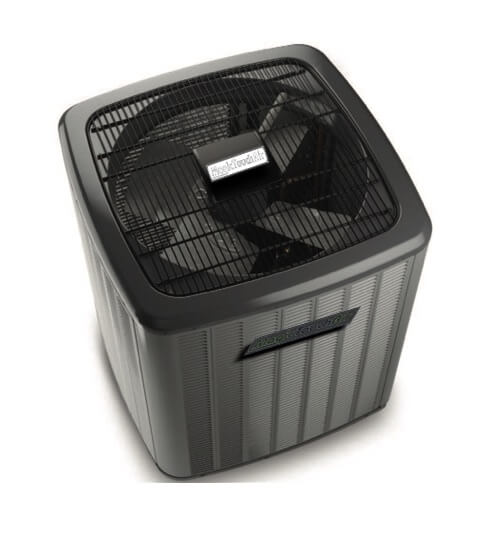 Compressor Type

Variable Speed

Efficiency Rating

up to 24.50 SEER

Sound Rating

as low as 57dB
Franklin
Franklin AVXC20
Franklin AVXC20 Air Conditioner
Magic Touch Mechanical has a "private label" agreement with the Daikin Group allowing us to be one of an exclusive few, authorized to sell and install the Variable Speed Inverter driven Franklin AVXC20 central air conditioner. If you are familiar with the Amana brand, you are automatically familiar with the Franklin brand as they are one in the same.
You will notice as you compare products on our website that we offer a greater variety of brands and options than most other air conditioning companies in Phoenix, AZ and nearby cities. From our Product Comparison tool to our side-by-side AC unit match-ups and new unit reviews, you will see a regular theme. We don't push one brand over the next, as each have their pros and cons – and we're not afraid to share our opinions on either. Our product is service, and we want you to choose Magic Touch Mechanical regardless if the brand you choose is Franklin, Trane, Lennox, Bosch, Mitsubishi, etc.!
What we do require from a manufacturer to get our recommendation is: Durability, reliability, great warranties, great support, and parts availability. Franklin delivers on those requirements and the Franklin AVXC20 performs like a champ in our tough Arizona climate.
AVXC20 Heat Pump Efficiency Ratings
SEER (Seasonal Energy Efficiency Ratio) ratings as high as 24.50 
The Franklin (Amana) AVXC20 AC unit sits almost at the top of the charts when compared to its ultra-efficient competitors with efficiency ratings as high as 24.50 SEER.  While not quite as high as the best-in-class Lennox XC25 which squeaks out an additional 1.5 SEER, the AVXC20 is sure to deliver low energy bills.
Variable Speed Inverter Compressor
The Daikin Group has chosen Magic Touch Mechanical as one of a select few HVAC Contractors to be a Franklin Factory Authorized Dealer. The inverter driven variable speed compressor in the AVXC20 is not available through their regular distribution of the Daikin brand – only a Franklin or Amana authorized dealer can offer this exclusive product.
Think about variable-speed inverter compressors like the one found in the AVXC20 like a dimmer switch. Rather than just being on or off like a regular light switch, the compressor in this unit can speed up or slow down to match the conditions at the time, the same way you can dim the lights in a room or make them brighter.
This inverter compressor technology is the driving force behind the AVXC20's extreme efficiency.
 AVXC20 AC Unit Sound Levels
The AVCZ20 stands out when it comes to sound levels – or maybe we should say it sits quietly in the background! With decibel ratings as low as 57dB, this unit ties the Trane XV20i which boasts being one of the quietest air conditioners on the market.
We'll say this about the noise coming out of this machine when it's running – there really isn't much to talk about. It's just quiet!
The AVXC20 is Packed with Enhanced Features
The AVXC20 is packed with the best of everything the Daikin Group has to offer since this is their crown-jewel. From the thick sound blanket reducing already low compressor noise, to the whisper quiet variable speed condenser motor, nothing was spared from the list of things one should expect from an air conditioner in this class.
This AC is full of components any HVAC Technician would want in a unit including on-board diagnostics. Check out our product reviews to see a full list of features.
AVXC20 Variable Speed Heat Pump Warranty Information
A Lifetime Compressor Replacement Warranty is not something you see in most AC units, let alone a promise like this:
In the event of a compressor failure, Franklin will replace the entire outdoor AC unit with a new one! It is worth mentioning replacement warranty is for the purchaser only so if the home is sold it reverts back to the 10-year warranty. Also, labor and ancillary items are not covered but then again – none of their competitors have a warranty like it.
AVXC20 Variable Speed Heat Pump Summary
Amana air conditioners have a loyal following for a reason. Year after year they receive honors from well-known consumer product rating groups and owners alike. Although the Franklin brand is lesser known, there's nothing they don't share right down to the model number.
As far as we're concerned the Franklin AVXC20 deserves its spot next to the premium brands and models it competes with in this category. It's quiet like the Bosch and Trane, super-efficient like the Lennox, and offers a superior warranty like Mitsubishi. If you're an Amana loyalist this unit has all the makings of the products that proceeded it. If you were considering an Amana because the builders model you had forever served you well, think about upgrading to their top-of-the-line unit!
How Much Does an AVXC20 Variable Speed Heat Pump Cost?
Simply "changing the box" will not get you the efficiency or performance today's air conditioners are designed for. Time and time again we see customers who "got what they paid for" because they chose the "cheaper" company who had "the same thing for less". The best way to think about replacing an air conditioner is not by comparing the unit – but comparing the installation.
Lower prices usually mean cutting corners, disregard for proper sizing and design, and inferior materials and installers. These things will result in poor performance, lower efficiency, frequent system failures, and shorter equipment life. Never buy a new AC unit based on price alone!
The only way to determine installation price is to thoroughly evaluate the specific application.
Are You Interested in Franklin Heat Pump Installation?
Choosing a new cooling and heating system is a 10-15 year plus commitment (unless you choose the wrong installing company). We work in thousands of homes around the Phoenix valley each year and unfortunately see the discomfort, aggravation, and expense their owners deal with when the whole "system" was designed and installed improperly.
Aside from things like free maintenance, an ACCA approved Manual J load calculation, optimized airflow design, and more, there are many things that set a Magic Touch Mechanical installation apart from the others: What's Included With This Installation?
Schedule a Free home evaluation & system design and compare units & prices side-by-side.
Other Products to Consider
Trane XV20i
Lennox XC25
Mitsubishi MXZ