Gas Fireplaces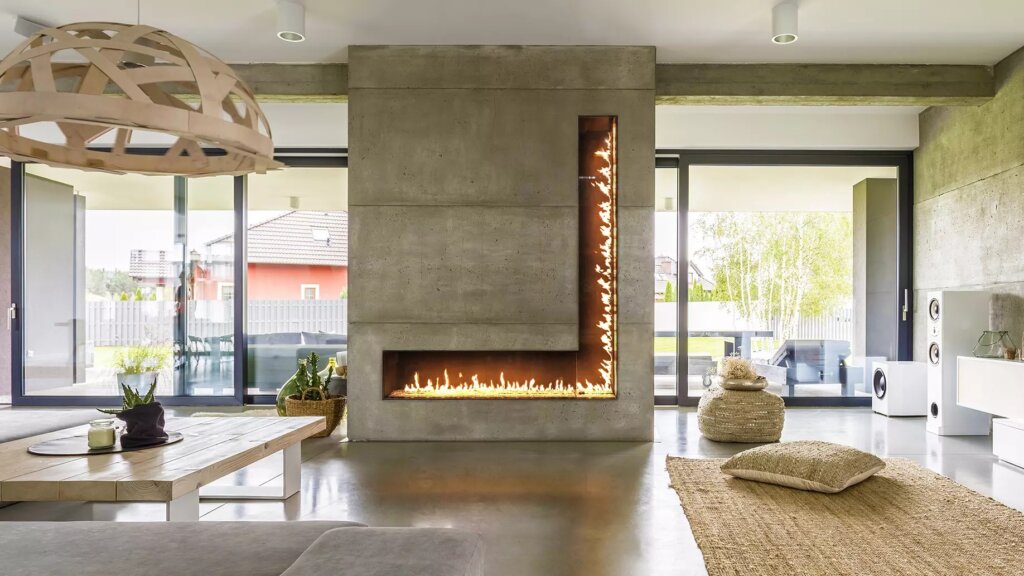 Built In Gas Fireplaces
Built In Gas Fireplaces – Endless Possibilities
Built in gas fireplaces come in all shapes and sizes and can even be custom-built for your specific application. There are 4 types of built in gas fireplaces on the market today categorized by how they are vented. We give a brief review of the 4 types below, and then we get into the really cool stuff … shapes, sizes, and configurations you probably didn't know was possible!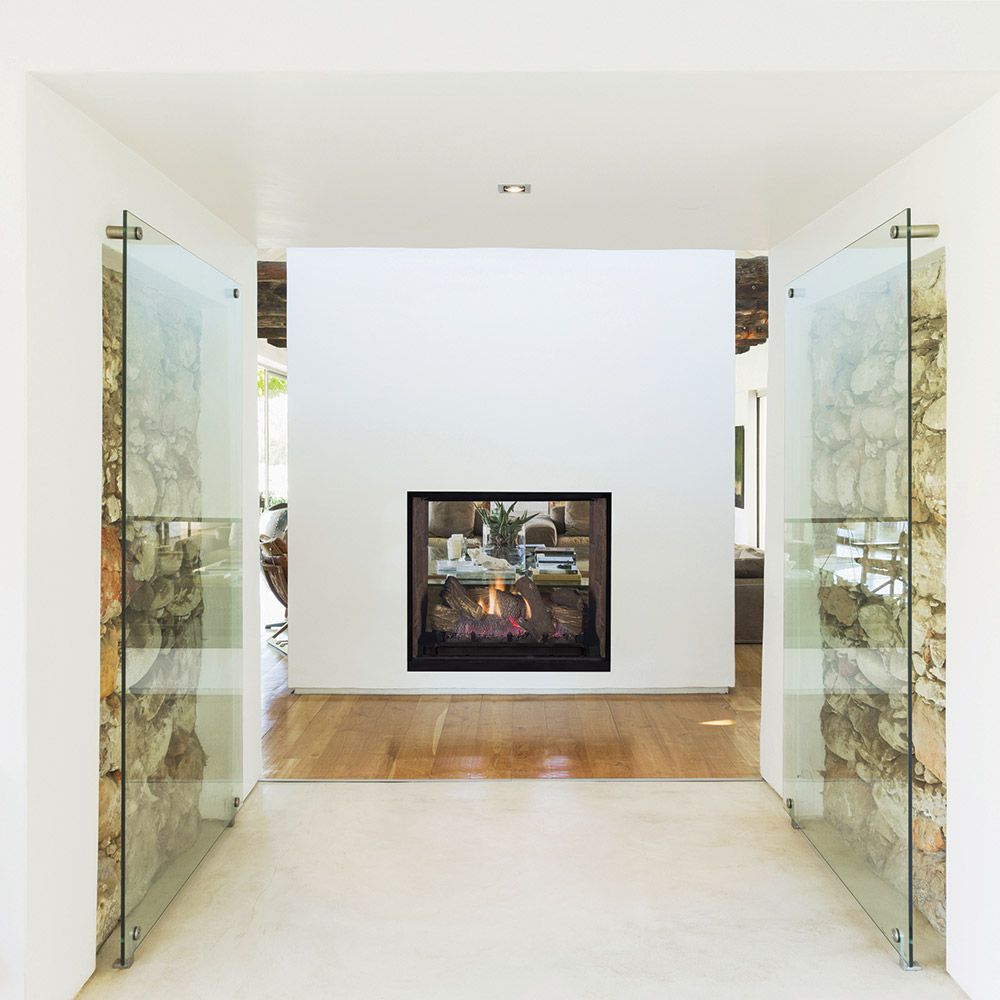 See Through Built In Gas Fireplace
Direct Vent
By far, the most popular style today is the Direct Vent Fireplace. Popular amongst homeowners and businesses, direct vent fireplaces are usually a sealed system encased in glass. This type brings in fresh combustion air from the outside and expels its exhaust gases directly outside. Direct vent fireplaces can be vented horizontally through an exterior wall or vertically through the roof. Direct vent fireplaces are built to fit almost any style or decor from traditional to contemporary to ultra-modern.
Power Vent
Growing in popularity for commercial applications and custom homes is the Power Vent Fireplace. A power vent fireplaces' main advantage is its ability to be placed virtually anywhere. It's one of two types of fireplaces often seen in the center of the room. These built in gas fireplaces are common in hotel lobby's, restaurants, bars, and luxury homes. When you see a gas fireplace in a free-standing wall and no vent pipe coming out the top, it's most likely a power vent fireplace. Leading hearth manufacturers are now manufacturing power vent built in fireplaces that can be exhausted up to 500′ away from the fireplace!
Ventless / Vent Free
Ventless or Vent Free Fireplaces are another built in gas fireplace that allow for flexible installation. It too can be installed in a free-standing wall in the center of the room as it doesn't require any venting. This type of built in gas fireplace works differently from the rest as it's the only one that does not vent to the outside of the building. Vent Free fireplaces have some disadvantages compared to other built in gas fireplaces but do have their place in the lineup. When considering a ventless fireplace it's important to know their limitations, how they work, and your local codes.

In the Phoenix, AZ area where The Fire Place by Magic Touch provides fireplace service, they're allowed (after doing required calculations). However, there are other places in the country that restrict the use of ventless built in gas fireplaces. Always check first!
Natural Vent / B-Vent
Last but certainly not least is the Natural Vent aka B-Vent Fireplace – the one that started it all! Natural vent fireplaces took the place of wood-burning fireplaces when the use of natural gas and propane fuel grew in popularity. A B-Vent fireplace uses oxygen from the fresh air in the room to 'feed' the combustion process. It shares this trait with the ventless fireplace but that's where the commonalities end. Unlike a ventless hearth, a B-Vent fireplace allows exhaust to vent to the exterior of the building though an attached vent. The exhaust vents 'naturally' as the warm air rises up the vent the same way a masonry chimney works.
Conventional, Linear, See-Through, 4-Sided, Corner & Peninsula Built In Gas Fireplaces
Built in gas fireplaces are available in all of the 4 venting types discussed above. On top of that, they're available in hundreds of sizes, shapes, configurations, and use multiple types of media. Most fireplaces can be easily converted to work with either natural gas or propane. If you have a project that can't be accomplished with one of the hundreds of options already in production, you can have one custom-built. The only limitations to creating the perfect built in gas fireplace for your dream-come-true is imagination and budget. If you can dream it and have the budget for it, the possibilities are endless!
Indoor/Outdoor See-Through Gas Fireplace
For the best of both worlds, we install indoor/outdoor gas fireplaces that are also see through! Perfect for entertaining, or just taking the dinner party outside to relax with your favorite wine or cigar, your guests will be wowed! As you've probably already guessed, indoor/outdoor see-through fireplaces can be designed to match your style inside & out!
Built In Outdoor Gas Fireplaces
Interesting fact: According to one of the largest producers & retailers of outdoor fire pits & accessories, there are more fire pit owners per capita in Arizona than any other state!
We love gas fire pits (we design, repair, & install them too!), but you don't have to have a fire pit to enjoy a cozy fire outside. Built-in gas fireplaces can be installed outdoors as well. Picture a stunning outdoor fireplace in your front courtyard, on your back patio, or by your pool. Like, we said before, you're limited only by your imagination! When you consider our morning and evening weather (most of the year) it's clear why Arizona has more outdoor fireplaces, fire pits, & fire features than other states!
The Fire Place, Your Fireplace Place! 
The Fire Place by Magic Touch has been providing 5-Star gas fireplace service in the Phoenix area for over 1/4 century! We're proud to be the top-rated fireplace service & installation company in Arizona based on online customer reviews. Check us out on Google, Angi, and the Better Business Bureau, and see for yourself. There's a reason over 3,000 customer reviews rate us 4.8 out of 5-Stars. Sure we're one of the top rated heating & air conditioning contractors in Phoenix as well, and we're proud of that. But, air conditioners are a necessity … we all need AC … we all want fireplaces! Fireplaces are the gathering place, the showstopper, the pièce de résistance … we love creating them, building them, and hearing from our clients how much they love them!
Contact us to schedule your custom design quote!