Packaged Units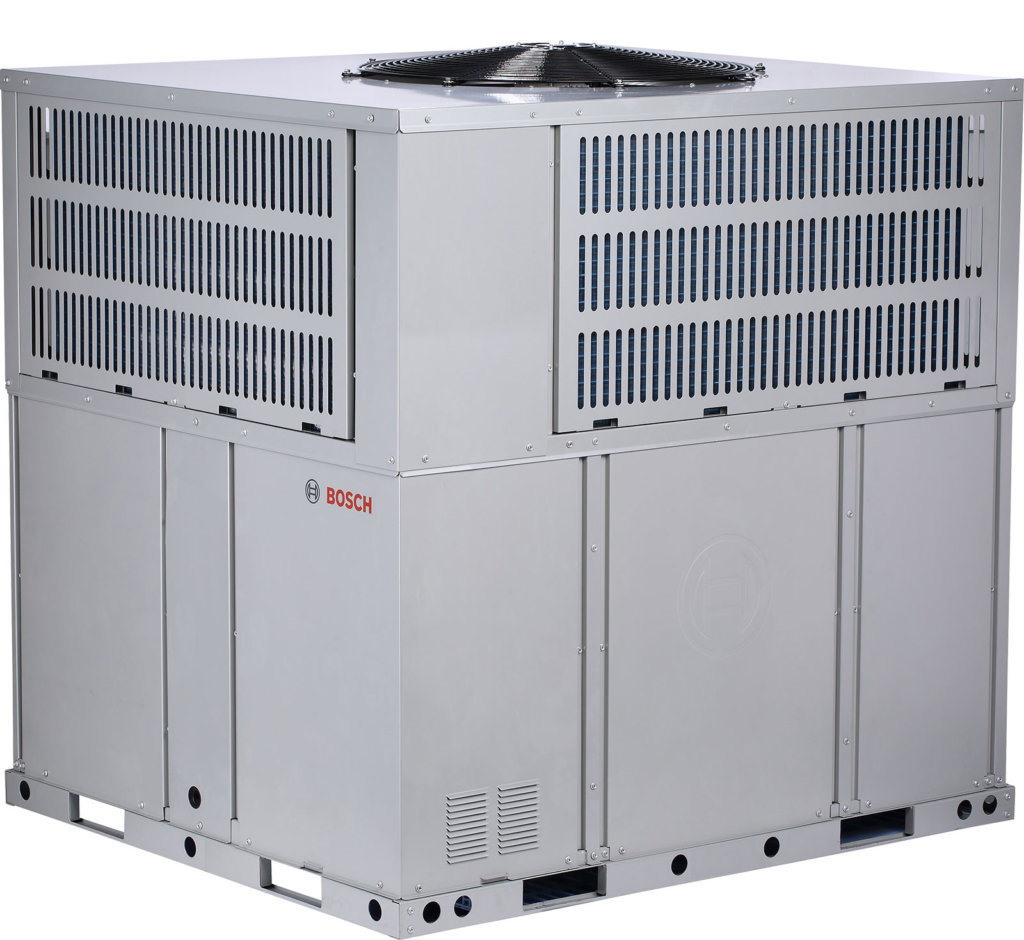 Compressor Type

Variable

Efficiency Rating

up to 19 SEER

Sound Rating

as low as 59dB
Bosch
Bosch IDP Inverter Packaged Heat Pump
Bosch IDP (Inverter Ducted Package) Packaged Heat Pump
We've written many blog articles about the benefits of variable speed aka inverter driven compressors. They're the most efficient, quietest and highest-rated air conditioners & heat pumps money can buy. The Bosch IDP Packaged Heat Pump is truly the first of its kind since it's the only packaged heat pump on the market with a true variable speed compressor.
Bosch IDP Packaged Heat Pump Efficiency Ratings
SEER (Seasonal Energy Efficiency Ratio) ratings as high as 19.00*
HSPF (Heating Season Performance Factor) ratings as high as 10.00
The next closest package unit on the market doesn't hold a candle to the Bosch IDP Packaged Heat Pump in terms of efficiency – in fact, none do! Rivals like Trane, Lennox, Carrier, & Goodman (to name a few) offer units in the 15-16 SEER range with their top-of-the-line models. 
Variable Speed Inverter Driven Compressor
The compressor in the Bosch IDP Packaged Heat Pump provides the most precise cooling & heating of any rooftop unit available today. That precision is due largely to the 85-speed compressor inside. With the ability to ramp up or down in 1% increments, the Bosch IDP provides consistent room temperatures while using only the minimum amount of energy needed. 
Bosch IDP Packaged Heat Pump Sound Levels
Thanks in part to the 10-Speed ECM blower motor, insulated cabinet, and of-course the inverter-driven compressor this unit is extremely quiet! Now you and your neighbors can actually enjoy some time in the pool or on the patio without listening to the constant drone of air conditioning – well yours anyway! The Bosch IDP operates as low as 59dB (decibels) which is significantly quieter than everything else on the market today.
More Bosch IDP Packaged Heat Pump Features
The Bosch IDP wouldn't be the world's most efficient and feature-rich packaged heat pump if it wasn't packed with features & benefits would it? Here's a few they can brag about
The only 85-Speed inverter driven variable capacity compressor in a packaged heat pump

2 to 4-stage indoor fan control (dependant on tonnage)

10-Speed outdoor condenser fan motor provides quiet operation, extreme efficiency, and maximum heat removal

Heavy gauge steel cabinet with powder coat paint

Heats up quickly thanks to the inverter-driven compressor

Mobile Home Certified! Thanks to it's design, the Bosch IDP is certified for high static ductwork found in park models and modular homes
Bosch IDP Rooftop Heat Pump Warranty
The Bosch IDP packaged heat pump is backed by a factory 10-year warranty on the compressor, coils & functional parts. More importantly, over the years, we've found the support and follow-up from Bosch and their suppliers to be second to none!
Bosch IDP (Inverter Ducted Package) Heat Pump Summary
When we first started installing the Bosch split heat pump years ago, we knew pretty quickly they came to the US to interrupt the market. Our installers, service technicians, and most importantly, our clients who won them all love these machines. Having installed Trane, Goodman, Lennox, Amana, & Mitsubishi (to name a few) for over two decades we didn't know if Bosch would 'stack up' at first. Not only did we find they were here to stay, they're one of the most popular units in our entire portfolio of brands now.
All of the things we and our clients love about the split systems can be found in the Bosch IDP Package Heat Pump. The main difference being, they don't have any competition in this class being the only variable capacity package out today. Let's put it this way: The Magic Touch Mechanical offices are cooled partly with mini split ductless units and partly with a packaged heat pump on the roof. When it's time to replace that packaged unit (which is pretty soon), we'll be installing the Bosch IDP!
Are You Interested in Bosch IDP Package Heat Pump Installation?
Choosing a new cooling and heating system is a 10-15 year plus commitment (unless you choose the wrong installing company). We work in thousands of homes around the Phoenix valley each year and unfortunately see the discomfort, aggravation, and expense their owners deal with when the whole "system" was designed and installed improperly.
Aside from things like free maintenance, an ACCA approved Manual J load calculation, optimized airflow design, and more, there are many things that set a Magic Touch Mechanical installation apart from the others: What's Included With This Installation?
Schedule a Free home evaluation & system design and compare units & prices side-by-side.
Other Products to Consider
Lennox LRP16HP
Trane XL16c