Heat Pumps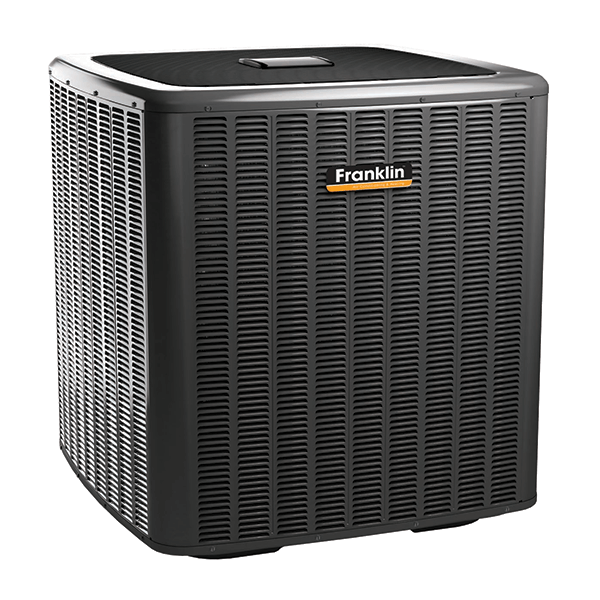 Compressor Type

Variable Speed

Efficiency Rating

up to 21 SEER / 10 HSPF

Sound Rating

as low as 59.4dB
Franklin
Franklin AVZC20
Franklin AVZC20 Heat Pump
If you search the internet for the AVC20 you will probably find it listed as an Amana. The manufacturer reserves their variable speed heat pumps to only Amana and Franklin Factory Authorized Dealers.
We follow a sales philosophy at our company we call "offering options not ultimatums". In other words, we offer our clients a variety of brands so they can choose the unit that's best for them and their budget – not what's best for us. We realize we are different from other air conditioning companies in the Phoenix area that only offer one or maybe two brands. We're happy to be different – it's one of the things that makes us better!
AVZC20 Heat Pump Efficiency Ratings
SEER (Seasonal Energy Efficiency Ratio) ratings as high as 21.0 in cooling
HSPF (Heating Season Performance Factor) ratings as high as 10.0
The Franklin (Amana) AVC20 Heat Pump condensing unit earns its spot amongst its ultra-efficient competitors with efficiency ratings up to 21 SEER and 10 HSPF. Homeowners who choose the AVC20 for their homes cooling and heating can expect significant savings on their utility bills.
Variable Speed Inverter Compressor
Franklin reserves this variable speed compressor unit to only a limited number of Factory Authorized Dealers. The reason for this exclusivity really has to do with the "next level" factory training required to properly install this complex system.
The variable-speed inverter technology compressors in the AVZC20 functions much like the cruise control function in your car. With it, the compressor speed is automatically adjusted to provide the exact amount of energy needed to maintain your temperature setting.
On extremely hot summer days the compressor's speed is increased to match the demand. Upon reaching the set point, the compressor speed decreases in order to save energy while maintaining the desired temperature. On cooler summer days and evenings, the compressor uses less energy than a conventional single-speed unit, minimizing energy waste.
 AVCZ20 Heat Pump Sound Ratings
The AVCZ20 can hang with some of its variable speed brethren when it comes to low operating sounds. With decibel ratings as low as 59.4dB. However, if quiet is very important to you, the AVCZ20 may not be as good a choice as its Trane, Bosch, or Lennox counterparts (listed in order of quietest to least quiet). That's because when functioning at high speeds, the AVZC20 can operate as high as 78.5dB, which is significantly louder than some of its competitors at high speeds.
The AVZC20 is Packed with Enhanced Features
There are really too many premium features and components packed into the AVZC20 to list them all. Because the manufacturer reserves their premium products for the Franklin and Amana brands, you can expect the best of their design and engineering in this model. Components like a two-speed outdoor fan motor, factory installed sound muffler, and compressor protection are components not found in lesser heat pumps.
AVZC20 Variable Speed Heat Pump Warranty Information
Like many of the heat pumps in this class, the AVZC20 comes with a full 10-year limited parts warranty from the manufacturer. One stand-out factory warranty that other manufacturers don't offer is a Lifetime Compressor Replacement Limited Warranty*.
*If the compressor ever fails, the manufacturer will replace it with a new outdoor condenser. Important notes: This warranty is limited to the original purchaser only. The consumer is responsible for labor and ancillary items required to replace the condenser unit.
AVZC20 Variable Speed Heat Pump Summary
While the Franklin name is less known by most consumers, most are familiar with the Amana brand. There is no difference other than the name badge between the Amana and the Franklin – even the model number is the same.
The Amana AVZC20 is very highly rated by consumers who own this product with an average score of 4.7 out of 5-stars at the time this web page was published. We have many happy clients who have purchased this equipment and it has proven very reliable over the years.
Consumers considering this model should also consider the Bosch Variable Speed Inverter Heat Pump which offers lower sound ratings and an 11-year parts and compressor warranty. The AVZC20 achieves higher efficiency ratings than the Bosch, however the upfront cost difference makes the Bosch a very worthy contender.
Are You Interested in Franklin, Goodman or Amana Installation?
Choosing a new cooling and heating system is a 10-15 year plus commitment (unless you choose the wrong installing company). We work in thousands of homes around the Phoenix valley each year and unfortunately see the discomfort, aggravation, and expense their owners deal with when the whole "system" was designed and installed improperly.
Aside from things like free maintenance, an ACCA approved Manual J load calculation, optimized airflow design, and more, there are many things that set a Magic Touch Mechanical installation apart from the others: What's Included With This Installation?
Schedule a Free home evaluation & system design and compare units & prices side-by-side.
Other Products to Consider
Trane XV20i
Lennox XP25
Bosch Inverter Heat Pump
Mitsubishi MXZ