Gree Flexx Install for Mom
September 14, 2022
Have you ever wondered what brand heat pump an air conditioning contractor would install in his own mother's house? After all, it's for mom – so it better work great, it better be efficient, and it better be reliable! Well, here's your answer: I chose to install a Gree Flexx heat pump in mom's house. In this article, I'll share why I chose the Gree Flexx for mom and which other brands I considered. I also review the runner up and the two things that put the Gree Flexx over the top. Lastly, I share my Gree Flexx review from the end users perspective and from an installers perspective.
Gree Flexx Install in Chandler, AZ
Earlier this week, the Magic Touch team completed a Gree Flexx install in my own mother's house in Chandler, AZ. The Gree Flexx replaced an old Trane XE1000 that frankly wasn't worth fixing any longer. We replaced her other Trane unit (which conditions the 1st floor) 12 years ago with a Lennox. The Lennox system was the best fit and value for the application at the time. This time, it was practically a no-brainer to install a Gree Flexx rather than another Trane or Lennox system.
To be fair, the Trane unit had an exceptional run and lasted much longer than I could've hoped for. That said, the Trane of yesteryear and the Trane of today are hardly comparable and to be frank – they've fallen behind their competition. I'm not disparaging Trane by any means, however in my opinion many of their competitors offer more for less and are producing better products in recent years. This is especially true when it comes to comparable variable speed inverter heat pumps and air conditioners.

Disclaimer: We Sell Many Brands!
Before you assume this is an ad for the Gree Flexx, let me start with the following disclaimer. Magic Touch Mechanical sells & installs many different air conditioner & heat pump brands. For over 25 years we've been installing Trane, American Standard, Lennox, Goodman, Mitsubishi, Bosch, Daikin, Rheem, Amana, and several others. Our motto when it comes to the brands we recommend and install is, "we offer options, not ultimatums." In other words, we just want you to choose Magic Touch to install whatever brand you feel is best for your budget and home. We're going to provide the same level of service and quality install regardless of brand, model, or cost!
Don't get me wrong, we don't, and won't install just any brand or model…it must meet our standards first. In fact, one of the things we consider is – would I install this in my own house? Or more importantly, would I install this in my mother's house? Any of the brands we carry could've made the cut, but the Gree Flexx topped the list for several reasons. Below I outline a few of the most important criteria we used that ultimately led to choosing the Gree Flexx for this installation.
One final note, this article is my opinion based on 35 years in the HVAC industry. I'm not being compensated by Gree! In fact, I didn't even ask for a discount on this unit. While I may own the installing company and do buy this equipment at contractor cost, I'm in fact the consumer in this scenario and my mother is the end user.

Criteria Used That Led to the Decision of Gree Flexx
Variable Speed Inverter Compressor
Mom keeps her home chilly! It must be in the bloodline because like myself, my mother's thermostat is always set to a low temperature. Chandler, AZ (a suburb of Phoenix) is known for long, hot summers and I know the system will run hard. Heat Pumps with variable speed inverter compressors provide the best comfort and efficiency money can buy. Once you've experienced the comfort difference an inverter compressor provides, you'll never look back. If you're not familiar with inverter driven units like the Gree Flexx, this article explains the differences of the 3 technologies available today.
Bang for the Buck
Ultimately, we narrowed the choices down to two brands, Gree Flexx & Bosch. For the last 5 years nobody offered more bang for the buck than Bosch when it came to inverter heat pumps. That is, until Gree came out with the Gree Flexx (a ducted central air & heating system). While neither are the most efficient central heat pump money can buy (that title goes to Lennox) – both are extremely efficient. The Lennox SL25XPV is the most efficient heat pump on the market today, however, comes with a hefty price tag. If money is no object, the SL25 does not disappoint – every client we've ever installed one for LOVES it. In fact, I installed two of its cousins in my own home, the Lennox XC25 (A/C coupled with gas furnace). That said, ease of use was an important consideration for mom and the SL25's thermostat, the Lennox S30, is anything but simple (awesome, but not simple).
Note in the photo below (yes, that's the actual Gree Flexx we installed for my mom), the air blows out of the side vs. out of the top like most conventional heat pumps. This is known as 'side-discharge' and is commonly seen in mini split ductless heat pumps. Unlike a mini split, the Gree Flexx is paired with a conventional heat pump ducted air handler inside the home as opposed to a ductless wall-mounted air handler. Earlier this year, I wrote another article explaining side discharge units and noted the Gree Flexx was "the one to watch". Since writing that article exactly what I predicted would happen has … many of our clients have been choosing the Gree Flexx over all the other brands we carry.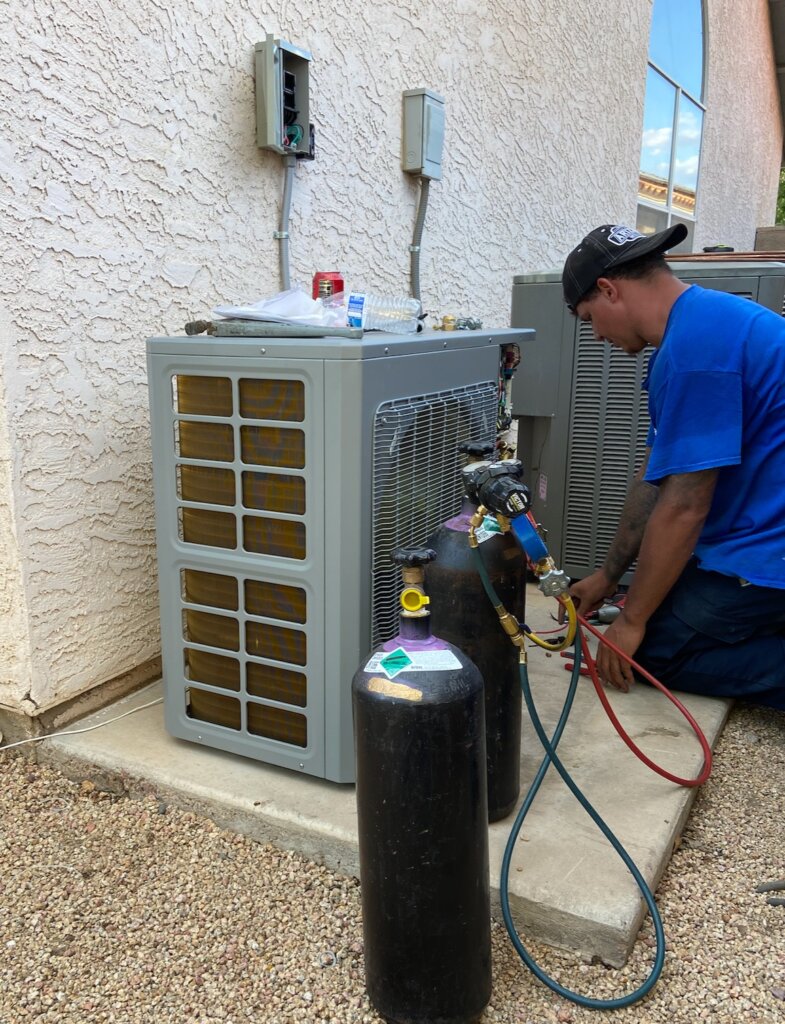 Ease of Use
One thing that separates both the Gree Flexx and the Bosch heat pumps from other brands is non-proprietary electronic control. Both Gree Flexx and Bosch can be installed with most of the aftermarket thermostats on the market today. Brands like Lennox, Trane, Carrier, and others all require you use their proprietary thermostats on their upper-end inverter heat pumps. Some of those proprietary controls (and required sensors & hubs) can add $1,000 or more to the total cost of these brands.
Not only do most of these thermostats add to the hefty price tag, but most are also loaded with features. "Loaded with features," is not something good for my elderly mother! In fact, it's not good for me either since I'm the one who gets the phone call to explain it again, LOL! So, in this case, the simpler the better is what we both wanted – on/off, hotter/colder, end of story.
Tech Tip:
For those of us who do want the high-tech, Wi-Fi enabled, all bells & whistles thermostat – not a problem. Both the Gree Flexx and Bosch Heat Pumps work with Ecobee, Sensi, Honeywell, and others in that class. If you already own one of these thermostats you can keep it (and save some money) and connect it to the Gree Flexx or Bosch in most cases. Not so with Lennox, Trane, Carrier and a few others – their "communicating systems" will not work with any other thermostat than the one they force you to buy (yup, I said it Lennox, Trane, and Carrier!).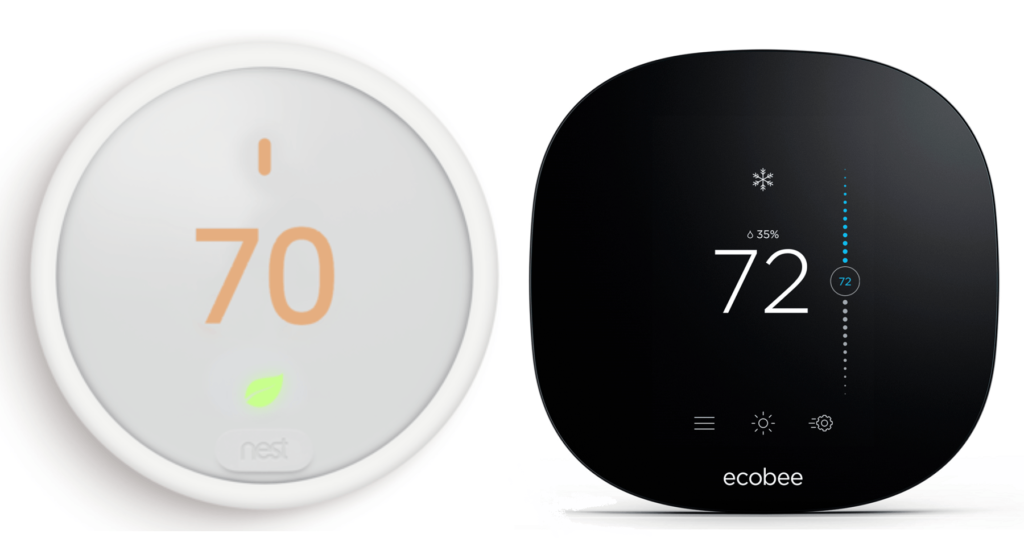 It Had to be Quiet
Mom's old Trane sounded like a train – the old locomotive kind! The Trane XE1000 condenser sounded like a freight train outside coupled with a commuter train air handler inside. Again, in fairness to Trane, it was very old and a builder model to begin with. I will give it to Trane for producing quiet equipment when you get into their upper-end models … impressively quiet! However, both the Gree Flexx and the Bosch lineup are equally, or even quieter than Trane's best models for a lot less money.
My mother really wanted a quiet system – it was on the top of her list, so in turn it was at the top of mine. The Gree Flexx is actually one of the quietest split heat pump systems on the market. In fact, the day after the installation my mother's first comment was, "I slept like a baby, I can't even hear it running." What makes that statement more impressive is the fact that the indoor unit sits right across from her bedroom door. If you've ever had a loud furnace or air handler in a hall closet, you know how important 'quiet' is!
Good Parts Warranty and Availability
A good parts warranty was actually of high importance to me. I spent a lot of time and money over the years keeping mom's Trane running and parts have gotten very expensive – even at contractor cost. It's mom, and I own an air conditioning company, so it's my time and dime when it breaks down (only mom gets free parts and service so don't ask! LOL).
The Gree Flexx carries a 10-Year manufacturer parts warranty like most comparable units on the market. Even the best mechanical equipment can fail, it's the nature of mechanical equipment – poop happens!  Trane's break, Lennox's break, Bosch's break – it's mechanical equipment running in a harsh environment and well, sometimes life is just unfair. I'm happy for the next ten years I'll only be eating the labor time and not the cost of parts too should a breakdown occur.
Why Gree Flexx Instead of Bosch?
Earlier I mentioned we narrowed it down to either the Gree Flexx or the Bosch Heat Pump. The Bosch has been far and away our best-selling heat pump inverter for the last 5 years. In fact, in recent years more people ask us for Bosch than Trane, American Standard, and Goodman combined! Post pandemic it even started outselling Lennox – the reigning heat pump champ for years with our clients.
My decades of selling HVAC has taught me; 10% of clients buy the most expensive offering, 10% the lowest cost, and the rest choose something in the middle. The majority of 'something in the middle' clients choose what they perceive to be the best 'value' aka bang for the buck – best features for the least money. The two products that really epitomize 'best features for the least money' on the market right now are the Gree Flexx and the Bosch heat pump. Gree had a couple of advantages over Bosch for this project though as I also tend to buy based on value, not price.
The Gree Flexx had two things over the Bosch Heat Pump:
The Gree outdoor unit is the size and shape of a large suitcase. The Bosch has a conventional 'large' footprint. For this application (sitting next to a 2nd heat pump condenser), the smaller footprint was a much better fit.
Bang for the buck. Previously no other brand on the market could match Bosch with regards to what you get for the price. That is, until Gree came out with the Flexx. The Gree is significantly better priced than the Bosch. Since Bosch was already significantly lower than every other brand, you can see it's a heck of a value!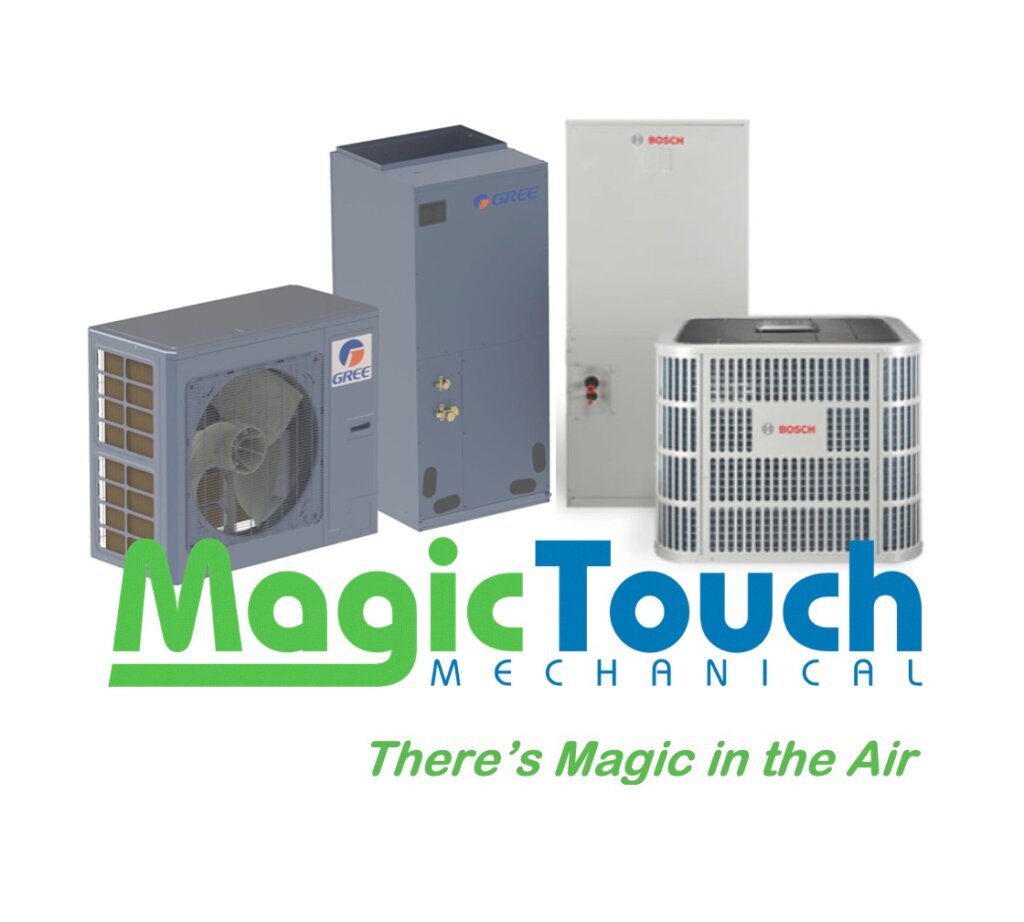 Good Enough for Mom, Good Enough for Me
It's been a busy year, so I put myself last on the list but … I'm installing a Gree Flexx in my workshop next. I've been meaning to do it since Spring of this year but keep bumping myself off the list since it's been such a busy summer. I also have several friends that work in the HVAC industry that already have or are about to install one in their own home as well.
Gree Flexx Install Review from a Technician / Installer Perspective
Gree's claim to fame is "1 in 3 is Gree". Meaning, Gree manufactures 1 of every 3 air conditioners and heat pumps made worldwide. However, it wouldn't surprise me to learn that most of my readers never even heard of Gree. Many of the 'Gree's' on the market today are license deals that have another brands name on them. Even well known U.S. brands such as Lennox and Trane have in the past, or currently sell units made by Gree but bearing their name. License deals, aka 'white label' products are very common in HVAC equipment offerings … you may even already own a Gree and not know it.
I mention that not only because it's impressive that Gree makes 33% of the worlds air conditioners, but because it's clear they know what they're doing. Overall, from a technician's and installer's perspective, the Gree Flexx design and components are not only rather good, some are downright clever. While these are complicated machines from a technology perspective, an experienced technician & installer will appreciate the thought that went into design.
Skip to the Consumer Perspective if you don't care about the "techy" stuff!
PROS:
Great design for both installation and service.
Side discharge size and weight are better than conventional condensers making it easier for both installers and service technicians. Service techs will appreciate the extra working area when installed in tight walkways – so always).
That said, there are two things I believe Gree could've done better and hope to see them correct these issues in future updates. Neither of these things impact the end user but I believe other contractors would agree these updates will make us all happier.
CONS:
Air handler knockouts only on right/top side for bringing in high voltage and control wiring. This makes sense for horizontal attic/crawl space applications but not for vertical applications. Not having the option may add time and materials in some install applications. Hey Gree, we want knockouts on both sides of the cabinet and into the control box.
The horizontal primary drain pan is long. Unlike their competitors designs, the Gree Flexx requires you to take both front panels off to access the drain pan or pull the coil. Once you add obstructions like hangers, cables, etc., service technicians will understand why this is a nuisance. Not to mention horizontal applications are always in tight, uncomfortable places so adding time and difficulty is always a no-no.
My Gree Flexx Review from a Consumer / Homeowner Perspective
I'm hesitant to say this because I never want my reviews to come across biased but there's just not a lot to dislike. The Gree Flexx is quiet, efficient, well-designed, and works like a champ. Add the fact that it's hands-down the lowest price inverter ducted heat pump on the market today and you see my dilemma! To be frank, I chose it for the woman who gave birth to me, and I love her – I only like you LOL. Seriously though, my thoughts haven't changed since I said the Gree Flexx was the "one to watch" early this year – it's a winner.
PROS:
Best bang for the buck variable speed heat pump on the market today.
Ultra-quiet (quieter than some of its most expensive rivals).
Excellent efficiency ratings.
Compact design 'side discharge' outdoor unit means 1/3 of the space needed in your yard.
CONS:
Side discharge outdoor unit won't work in all applications.
5-Ton unit height may be too tall in some applications.
Not available in all U.S markets yet.
The fact that it doesn't say Trane, Lennox, Carrier, or Amana on it may scare off  some homeowners (you'd be wrong in my opinion though)!
Gree Flexx Install Near Phoenix – Mesa
If you're interested in installing a Gree Flexx or other brand heat pump in your own home, contact us today. We offer free home evaluations and quotes in Mesa, AZ, and all cities within 35 miles of our main office.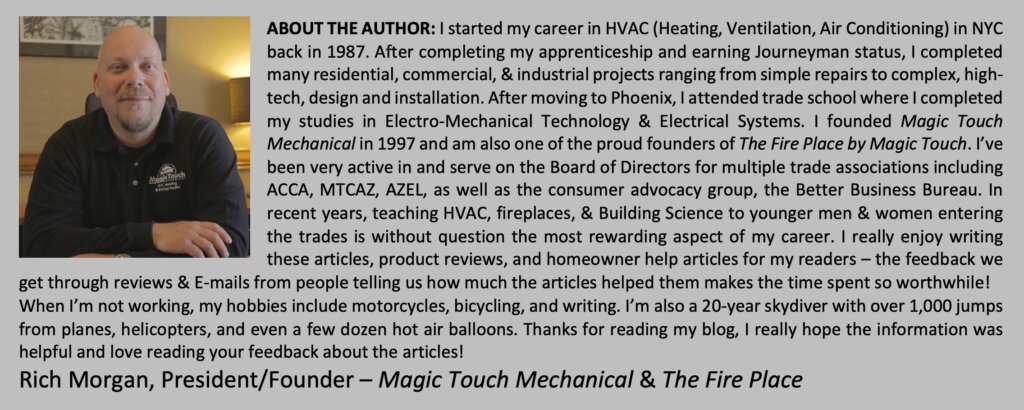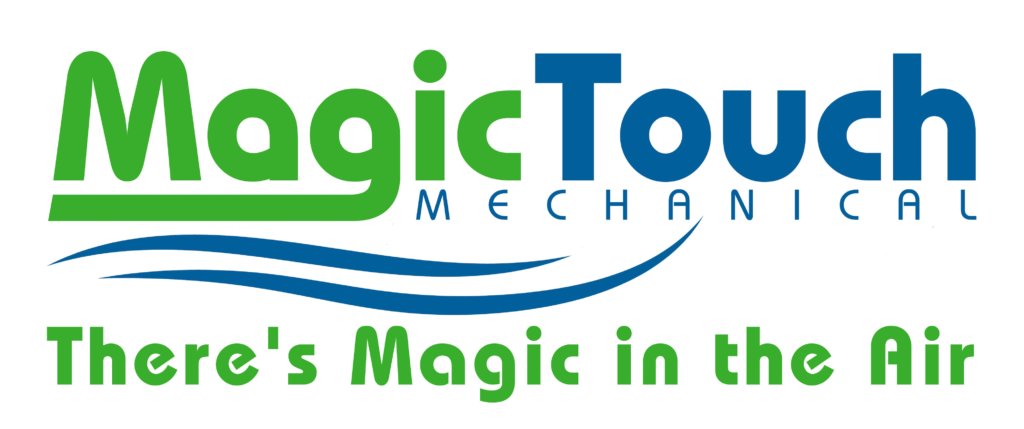 Stay Connected!
There's Magic in the Air! Since 1997