Fireplace Repair Mesa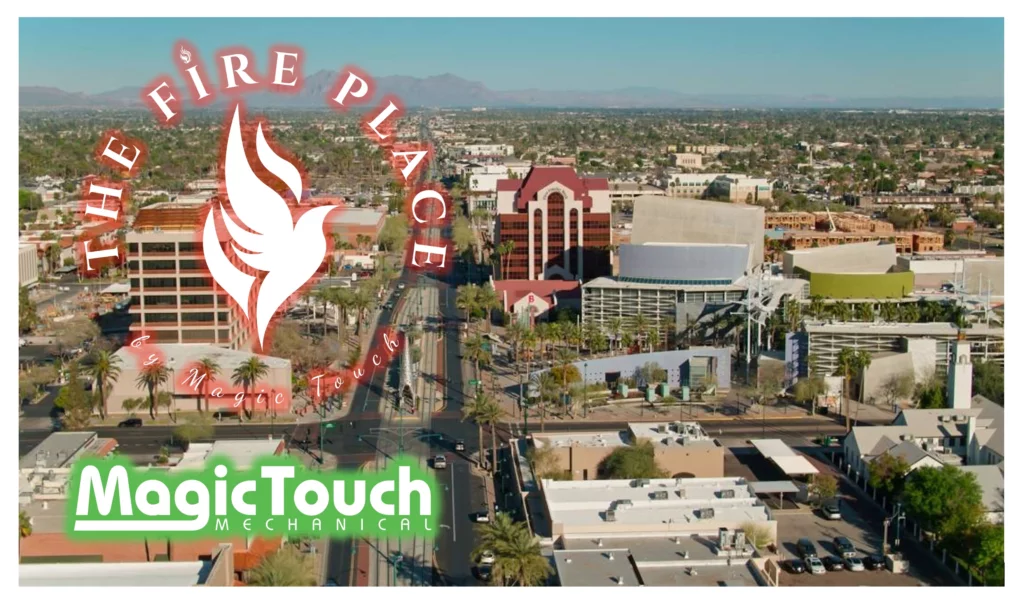 Magic Touch has called Mesa, Arizona home for most of our almost 27 years in business. When it comes to fireplace repair in Mesa, homeowners & business owners know to call their hometown company.
For the last 15 years, we've been in the same spot in downtown Mesa, but our roots in this city do much deeper. When we first started to grow, our very first office space was in East Mesa at Falcon Field Airport. As both our HVAC and fireplace repair business grew, we quickly needed more office & warehouse space. After a few years in our sister-city Gilbert, AZ we purchased our current building in Mesa where we've been ever since.
Residential & Commercial Fireplace Repair in Mesa
Being our hometown, fireplace repair in Mesa is a sweet spot in our business. It doesn't hurt that we're one of the only fireplace service companies in Mesa, however that's not the main reason. When you do a great job for your clients, they not only stay loyal, but they also refer their friends & neighbors. We're proud to say most of our fireplace repairs in Mesa are referrals from people who know and trust us.
After over ¼ century in business, it's fair to say we've completed thousands of fireplace projects in Mesa. From small residential fireplace & fire pit repairs to elaborate fire feature design & installation for hotels & restaurants – we've done it all!
We Back Our Fireplace Repairs With a 5-Star Service Guarantee
When you call Magic Touch for fireplace repair in Mesa, you're in the driver's seat. We bring the know-how & experience to provide the solution you choose is best for you. We're not pushy salespeople, our product is "service" and we've spent almost 3-decades perfecting it.
We're looking for one outcome after completing a fireplace repair in Mesa – you to say, "now that's 5-Star service!" Anything less and we're going to recalibrate before we leave to make sure that's the result upon completion.
Outdoor Fireplaces & Fire Pits Too
Besides fireplace repair in Mesa, we also repair, remodel, & install outdoor hearths, fire pits. & fire features. If you live or work in Mesa, AZ and need help with your hearth, gas log, fire table, fire bowls, etc. give us a buzz!