Daikin vs Mitsubishi: Who's King?
May 8, 2019
Here we go again, this one is the bout for the title between two heavyweight juggernauts: Daikin vs Mitsubishi.
Daikin and Mitsubishi are synonymous with mini split ductless air conditioners & heat pumps. However, to be fair, both of these HVAC manufacturing giants are players in the "ducted" world of central air also. What sets them apart from others is the ability to mix and match both ducted and ductless air handlers. Otherwise known as a hybrid A/C & heating system, they have application flexibility that can work in almost any home.
An Air Conditioning Contractor's Disclaimer
So that you know this brand comparison is unbiased, it's important to know my company sells both Daikin & Mitsubishi.
I don't care if people buy Daikin, Mitsubishi, Trane, Lennox, etc. Really, I just want them to buy it from us if they live in the Phoenix, AZ area. I own Magic Touch Mechanical in Mesa, AZ., an air conditioning, heating, & energy auditing company I founded 22-years ago. We are an HVAC install and service company. Our product isn't "the product"… it's the "service" we deliver.
As with all of my product comparisons, I know there will be people that disagree with my opinions. I have friends that work for almost every major manufacturer, including the ones mentioned in this article – some are close friends! However, these are my opinions (based on experience) and the New Yorker in me calls it like I see it. I don't write these articles for the manufacturer, I write them for consumers!
With that out of the way, let's get to comparing Daikin vs. Mitsubishi.
Daikin vs Mitsubishi: Comparing the Two Companies
Clearly with names like Daikin and Mitsubishi, these aren't American-born companies. Both companies' histories trace back to the other side of the globe, Japan. However, both companies have aligned themselves with American HVAC equipment manufacturers in recent years.
Mitsubishi & Trane Form a Joint Venture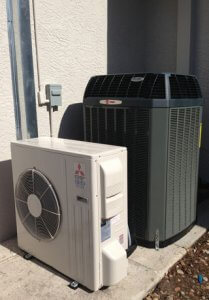 Mitsubishi has long held the title of the #1 selling ductless air conditioner brand in the U.S.A. In our experience, they've also proven to be the most reliable of the mini split AC & heating brands. NOTE: We install several ductless units a week, and have been for decades so have the data that shows this.
Of all the conventional central air equipment we install; Trane also holds this title for best reliability & durability. So, it makes sense that Trane & Mitsubishi chose each other to form a joint venture. Both brands hold "best in class" titles amongst the many models they manufacture.
Daikin & Goodman Now the Same Company
Several years ago, Daikin purchased Goodman manufacturing for a reported 13.1 billion dollars. The Goodman company was the largest central air equipment manufacturer in the country prior to being acquired by Daikin. Likewise, Daikin was the largest in the rest of the world prior. Together, they're the giant of the HVAC manufacturing world now. The acquisition put a lot of distance between them and Carrier, who was years ago, the largest multi-brand manufacturer.
Does Size Matter?
Yes, and no. Daikin/Goodman has substantially more market share globally than Mitsubishi/Trane. Although that still hasn't stopped Mitsubishi from outselling Daikin in America (yet). Nor has it stopped Trane (also manufacturer of the American Standard brand) from consistently ranking as America's "most reliable brand".
So, I say yes, size matters because; Daikin/Goodman's size gives them the purchasing power advantage over Mitsubishi/Trane. Think about how many mom & pop businesses Walmart put out of business because they couldn't compete with their pricing.
I say no, because; Trane and Mitsubishi never tried to be everything to everyone anyway. As opposed to the Walmart mentality (high volume/low prices), Mitsubishi & Trane are more like Nordstrom's. They cater more to consumers who want a higher-end product and are willing to pay a little more for it.
Daikin vs Mitsubishi: Comparing Reliability and Durability
Before I proceed, I need to reiterate Magic Touch has installed, repaired, and serviced thousands of both brands' units. Both have their place in the market and I'm simply reporting what we've seen over the years. It's also important to mention that we install equipment exactly per the manufacturer's specifications. In other words, if there is an unexpected failure, we know it's the machine, not installation issues.
That said, our experience has been both Trane & Mitsubishi equipment have proven far more reliable than Goodman & Daikin. NOTE: The failure rate of Goodman/Daikin is not so high that we would call it unacceptable – mechanical equipment fails – it's a fact of life. However, comparatively speaking (this is Daikin vs. Mitsubishi after all) it's not even a close match –  Mitsubishi prevails. It's also important to mention that there are HVAC brands that are far less reliable than both. Over the years, we've completely stopped installing other brands because the failure rate was unacceptable.
Daikin vs Mitsubishi: Comparing Price
Chances are pretty good a new Daikin ductless system is going to cost less than a new Mitsubishi ductless system. On the same note, a new Goodman central air system is going to cost less than a new Trane system. Remember, one is the Walmart of the HVAC world and the other is the Nordstrom's.
If your top priority is the lowest price, more than likely the Daikin or Goodman are going to be your best option. However, if your budget allows, chances are the Mitsubishi or Trane are going to offer more value over time.
PRO TIP: This is not always the case. With AC contractor promotions & factory rebates, you may actually get a Mitsubishi for less money than a Daikin. In fact, several times a year our Mitsubishi/Trane units cost less than our Daikin/Goodman units. In other words, get the quote to compare – you may get a more reliable unit for less money. Most AC companies don't charge anything to provide a new equipment quote so you don't have anything to lose.
Daikin / Mitsubishi Comparison: Options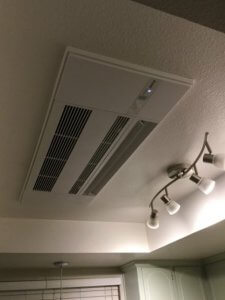 With the growing popularity of hybrid systems (partially ducted – partially ductless) both companies have a comparable footing. Both offer ducted, high-wall, low-wall, recessed, and ceiling mounted air handlers which can be mixed & matched in a home. This flexibility is unique in that; not all AC brands can pair ducted and ductless air handlers to one outdoor unit.
With the joined forces of Trane / Mitsubishi & Goodman / Daikin, the possibilities are even further expanded. This is good for consumers who own larger homes with multiple cooling & heating systems. While it's not a necessity, most homeowners (understandably) prefer all the brand names in their home to match.
Daikin vs. Mitsubishi Summary
Look, you could do a lot worse than both of these brands when choosing a new AC & heating unit. This is especially true of ductless mini split air conditioners and heat pumps… there is some absolute junk on the market. However, this is a product comparison article so I have to summarize which is the better choice.
If your budget allows, my experience is; you'll be much happier in the long run if you choose Mitsubishi. If it boils down to the wanting the cheapest installation, the Daikin is for you.
Price for a Ductless Mini Split or Hybrid AC in Arizona
Unlike conventional central air systems which are (slightly) easier to "ballpark". Every ductless mini split or hybrid air conditioning & heating system is custom designed for the application. This article will give you a better idea of ballpark prices and how "custom" these systems can get.
However, if you live within 35-miles of Mesa, AZ., we'll be happy to come measure and evaluate your home… FREE! We offer many brands and models so you can compare them all side by side and decide for yourself which is best for you. Contact us today to schedule a free in-home quote!
You may also like:
Mitsubishi MLZ Ceiling Cassette Review
5 Reasons Ductless AC & Heat is Better than Central Air
5 Things to Know When Buying a New AC Unit