Cheap AC Unit Installations Suck!
April 19, 2019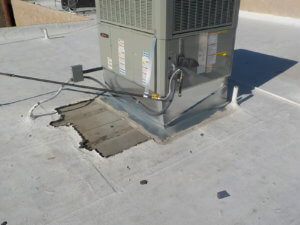 You may think the title of this article, Cheap AC Unit Installations Suck is rather crass – that was the point! I wanted to get your attention and hopefully save you from the same mistake too many people make. It seems no matter how many articles I write warning homeowners why not to take "the bait", many still do.
A few months ago, I received an E-mail from the owner of a fourplex in another state.
Note: I wouldn't post this article or pictures had this been here in the Phoenix, AZ area. It happens here all the time as well, but since this wasn't a local competitor I can speak freely.
The homeowner who messaged me had read one of my articles discussing the ins and outs of air conditioner warranties. As well as a post I wrote regarding air conditioner Lemon Laws. Unfortunately for her, she hadn't read any of my articles about why cheap AC unit installations suck – prior to purchase.
We've Seen Many Cheap AC Unit Installations That Suck Much More! 
I have a plethora of horrendous photos from cheap AC unit installs, that will one day go on the "Wall of Shame". Most are much worse than the ones shared in this article. I chose to use this bad installation for this story for the following reasons.
Again, this isn't in Arizona, so the guilty party will probably never see it

You don't have to know anything about AC Units to spot why it sucks

The homeowner bought a top quality brand and model – not cheap junk

It's a good example of an install that sucks vs. one that doesn't

It embodies the old saying "You get what you pay for"
Sorry, You're Not Covered by the Trane Warranty
As I said earlier, the homeowner found Magic Touch Mechanical when reading one of our articles about air conditioner warranties. The reason she was researching warranties is; she didn't qualify for the warranty she thought she was getting! You see, the contractor she hired didn't register the product with the manufacturer (Trane). And neither did she…in the allotted time. She "didn't know she had to."
The reason she didn't know was, earlier that year she purchased the same exact unit from a different contractor. That company did register the product for her. They also did a much better job installing the same exact unit. I'm not basing that statement solely on the pictures, those were her exact words.
So why didn't she use the original contractor who had done "a great job" and "took care of all the warranty paperwork for her"? Again, in her own words: "I decided to buy another two Trane units for my fourplex and found a company that beat my previous company."
So, she purchased three identical new Trane rooftop packaged heat pumps. The one she purchased from the good contractor is covered by a 10-year compressor & parts manufacturer warranty. The one she bought from the "company that beat [her] previous contractor" is covered by a 5-year compressor / 1-year parts warranty. So, I ask you, who got "beat"?
Roofing Company Voids 10-Year Warranty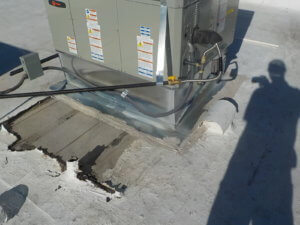 It seems her warranty troubles did not end with losing a huge portion of her air conditioner warranty coverage. "When I had the roof replaced, it came with a 10-year warranty, " she said. "Now they're telling me the warranty is voided because of the damage done by the air conditioning company." she added. "They said they could fix it for a little over $1,000 and then will reinstate the warranty."
Now do you see why I was intentionally crass and named this article Cheap AC Unit Installations Suck?
Not only did she lose her nine years parts warranty, five years compressor warranty on the AC, she lost her roof warranty!
Let's do some math. Her roofer wants $1000 to re-fix the roof. A 3rd party 10-year extended parts warranty on a package heat pump is another $1,000 each. That does not include the cost of the deductible each time she makes a claim.
$1000 extended parts warranty (1stunit)
$1000 extended parts warranty (2ndunit)
$1000 roof repairs needed now
$3000 total
Summary: She will need to spend an additional $3,000 just to be back to the place she would've been at had she continued working with the good contractor. So, I ask again, who got "beat"?
Maybe She Can Sue the AC Company
I know some of my readers probably just said, I would sue the pants off of that contractor! Unfortunately, there's a chance she could lose, and be out even more money. Not only could she be out her own legal costs, there's a chance she would have to pay theirs too. You see, more than likely the terms and conditions of the contract cover access issues and unforeseen conditions.
Don't get me wrong, this contractor could have, and frankly should have, planned for this situation. In fact, this was completely avoidable by simply using a product called a roof curb adapter. However, from a strictly contract-law point of view, more than likely the contractor would not be held liable for what was "under" the old unit.
A good contractor, would have anticipated this and simply installed the right components so as to not disturb the roofs integrity. Sure, it would have cost a little more (upfront), but it would have been in the best interest of the customer. You get what you pay for.
What Should You Take Away from This (Besides Cheap AC Unit Installations Suck!)?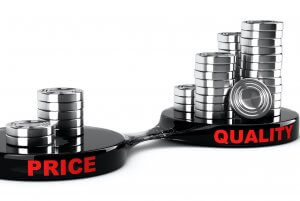 I once heard someone say, "I'm sure you can find someone to do this cheaper…and probably for less money too!" I've repeated that many times since and even thought about it when making my own purchase decisions.
Many products are the same no matter where you buy them, so you should buy them based on price. Services, however are a different story. Not always, but typically, if you buy a service for a lower price you get lesser service. Think about the things you do not want to skimp on: Dental services, medical treatment, tax preparation, brake repairs….you get my point, right? Well, add air conditioner and heating system install to that list too. Because; cheap AC unit installations suck!
We Guarantee Your AC Installation Won't Suck – In Writing!
If you live in the Valley of the Sun or anywhere within 35-miles of Mesa, AZ., just call Magic Touch. You'll have a written lifetime workmanship guarantee that your installation will be completed to the highest standards. In fact, our motto is, WE DO IT BETTER THAN IT HAS TO BE!
If you liked this article, you may also like:
The Best New AC Unit – A Complete Guide
AC Unit Cost – Upfront and After
How Much Does A New AC Unit Cost (2019)