Air Conditioning & Heating Service Gold Canyon
December 12, 2019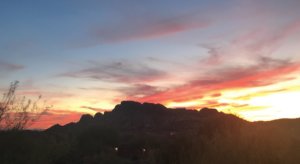 Having recently moved to Gold Canyon from Mesa, AZ myself, I'm realizing how many service companies don't go beyond Apache Junction. Magic Touch Mechanical has been providing air conditioning & heating service in Gold Canyon for decades. We have a ton of long-time, loyal clients here. Why any service company would draw the line in Apache Junction (some won't even go beyond Mesa) is crazy to me.
There are over 10,000 residents in Gold Canyon which means plenty of homeowners looking for home services of all types. I'm currently remodeling my new Gold Canyon home and have learned that I have to start by asking: Do you service Gold Canyon? If not, I'm having a 5-minute conversation only to find out they "don't go further than Apache Junction."
Gas Fireplace Service in Gold Canyon
Not only do we have many clients use our air conditioning & heating service in Gold Canyon, everyone has a fireplace here! In my community alone, many of the homes have outdoor gas fireplaces as well as indoor fireplaces. We love our Gold Canyon clients because they keep our technicians busy year-round! Gas fireplace service in Gold Canyon has been a booming business for us over the years. Come to think of it, maybe I shouldn't be telling our competitors about this hidden gem!
Air Conditioning Install in Gold Canyon
Out of curiosity, I just looked at our customer database to see how many clients we have in my zip code, 85118. It seems we have a lot, so if you're one… thank you so much for your business! While looking I noticed we're doing an air conditioning install in Gold Canyon as I type… our 3rd in 85118 this week. I knew I loved this place for more than just its natural beauty… which is pretty hard to beat btw!
Good News for Gold Canyon Residents
We may only have one grocery store and one gas station. And, we may have to search a little more to find certain services in our area. However, I can personally guarantee you'll get great air conditioning and heating service in Gold Canyon by calling Magic Touch! In fact, we literally provide a 5-Star Service Guarantee! That guarantee extends to all of the products and services we offer as well, from fireplace repair to attic insulation.
A Note to My Gold Canyon Neighbors
Thank you for welcoming us to the community! After living in East Mesa for 20-years, moving out of the neighborhood we'd grown to love was tough. We've added 20 miles each way to the Magic Touch offices in Mesa… but it's worth it. Besides all of our neighbors making it a point to stop by to welcome us, where we once had a peekaboo view of the Superstition Mountains, we now live in them!
Do You Need Air Conditioning & Heating Service in Gold Canyon?

If you need air conditioning & heating service in Gold Canyon you've stumbled across the right company! Magic Touch Mechanical is a fully licensed, bonded & insured Air Conditioning & Heating Company based in Mesa, AZ. We've maintained an A+ record with the Better Business Bureau since opening our doors in 1997. We're a BBB Torch Award for Business Ethics winner and 3x Finalist. Over 650 Angie's List Members give Magic Touch an A rating and have helped us to earn over a dozen Angie's List Super Service Awards!
Read more About Us and give us a call today for any of the services we provide. We'll make sure you're glad you did!
PS. Don't forget to follow us on Facebook