AC Shortage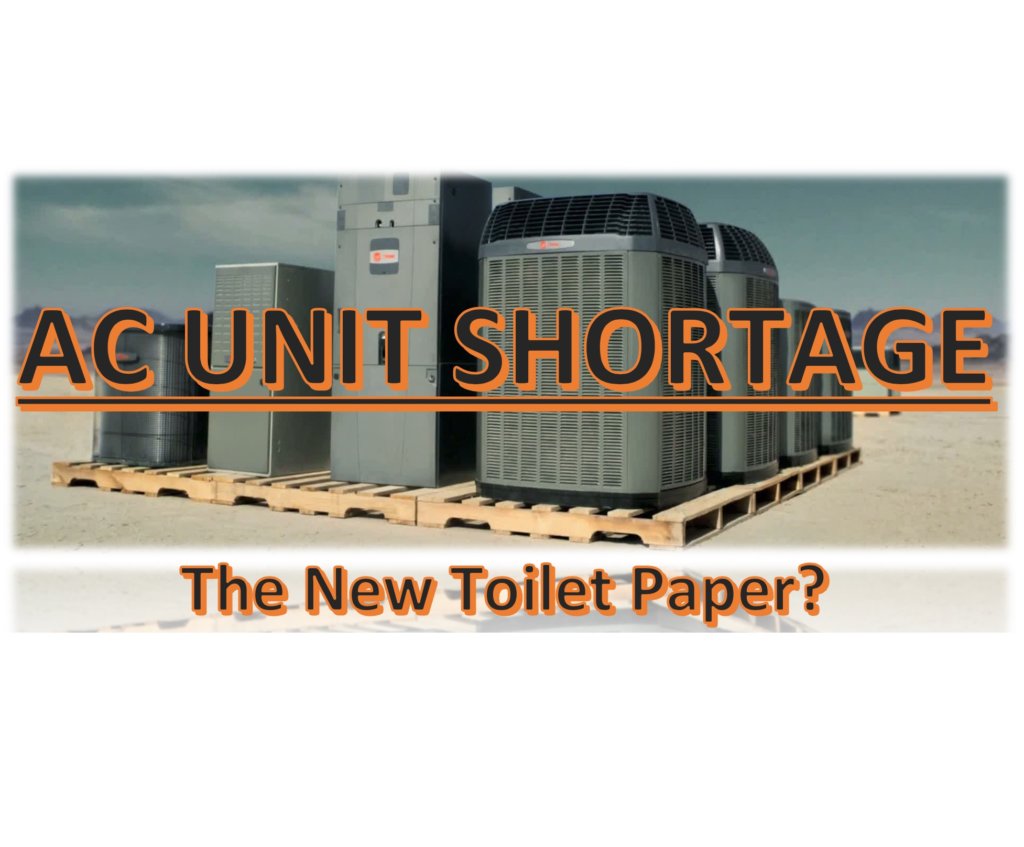 I founded Magic Touch Mechanical almost ¼ century ago and spent 10-years working in the trade prior to that. One thing I never thought I'd live to see was an AC shortage, but here we are!
Since the story first aired on local news and began circulating on social media, people have been asking how bad it really is. I'm not going to sugarcoat it… it's pretty bad!
Air Conditioner Shortages Started in 2020
All of the major air conditioner manufacturers are global, multi-billion-dollar corporations. The biggest players are companies like Carrier & Daikin (known in America as Goodman & Amana). While smaller than those two, other well-known manufacturers include Lennox, Trane, Bosch, Rheem, Ruud, York and Nortek (a "white label" manufacturer). All of which have factories in and source their parts from all over the world, including China.
I first posted an article about an AC shortage in July 2020. At that time, brands like Goodman, Trane & Carrier seemed to have been hit the hardest. Several factories were actually shut down completely for a time, sadly due to the death of employees from Covid-19. By December of 2020 nearly every manufacturer was impacted by the pandemic. Companies like York, Bosch, Lennox, Rheem/Ruud and the rest were all struggling to meet demand. I (sadly) wrote and posted my AC Shortage Part 2 article on December 3rd, 2020.
A/C Shortages Get Even Worse in 2021
The HVAC (Heating, Ventilation & Air Conditioning) industry as a whole remained hopeful things would return to normal in 2021. Unfortunately, not only have air conditioner shortages continued, but the problems have also gotten much worse. The supply of new air conditioners and air conditioner parts has diminished to levels none of us could've ever imagined.
What's Causing the Air Conditioner Shortage?
Made in America! Yeah, sure… insert sarcastic emphasis!
Our blog articles that discuss brands, product reviews or AC unit comparisons always discuss the fact that we sell many brands. I always bring that up so my readers know it's an unbiased, merit-based article. In other words, I'm going to point out what's real and what's "marketing spin" no matter which brand or model I'm talking about. Frankly, that's because I sell Magic Touch and the service we offer, not Trane, Lennox, Carrier, Bosch or whoever.
Anyway, in those articles I've often pointed out that every manufacturer is more of an "assembler" than a manufacturer. So, when an air conditioner salesman is boasting that his brand is "made in America," what he or she should say is: This brand is assembled in America using parts that are almost all built in Mexico and overseas (mostly in Asia).
The reason that's a big factor in what's causing the air conditioner shortage is this…
Most air conditioning manufacturers use the same brand compressor (Copeland) and yes, that now includes Trane. They're almost all sourcing components like capacitors, relays, switches, even wire from overseas (mostly China). In fact, most of the parts that make up every air conditioner brand are being produced in the same factories. Many of these factories, like the Copeland compressor plant here in the U.S., were shut down completely, or production was significantly reduced during the pandemic. Remember… we were all told to stay home!
The other reason that's important is, many products coming overseas were either completely stopped or couldn't clear U.S. Customs quickly. To this day, many containers are taking longer to clear customs and there is both container and driver shortage. You can't make this stuff up!
Death by a Thousand Cuts
As they say in the infomercials, "but wait…there's more"!
If cargo container shortages, commercial truck-driver shortages, factory workers not returning to work, and social-distancing slowing production weren't enough, there's more.
The Suez Canal debacle we all watched unfold on the news a few months ago had a huge impact. Products that couldn't reach American shores "stacked up," leaving dockworkers overloaded when they all arrived simultaneously. Sprinkle in shortages of raw goods like sheet steel, copper and aluminum worldwide. Add to that the hard winter slowing freight across the country and a microchip shortage (used in A/C's & thermostats) and we have the "perfect storm".
Components, Materials, & Parts Impacted Too
The same components HVAC equipment manufacturers use to build new A/C units are needed to repair home air conditioners. In other words, the industry is literally competing with itself!
So far this year we've witnessed shortages on A/C components like capacitors, compressors, motors, and even ductwork. Things we took for granted in the past are now being sold on a "call for availability" case by case basis.
Air conditioner shortages aren't the only thing we're challenged with this year. Everything from cars & trucks, bicycle tires, and even pool chlorine tablets are no longer "readily available." Again, I never thought I'd live to see it, but I guess who amongst us expected to live through a pandemic?
Magic Touch Mechanical Remains Committed!
Perhaps the best thing we learned from this is, not having all of our eggs in one basket worked out quite well for us and our clients. Since we have relationships with Lennox, Bosch, Goodman / Amana, Trane, Mitsubishi and others we've managed to keep our clients comfortable.
It hasn't hurt that when we saw the writing on the wall a year ago we started stocking up. That said, with more people being home, demand is higher than ever, so supplies are shrinking every day nationwide. Of course, summer is only just beginning and in Phoenix, AZ., air conditioner shortages are a lot scarier than say San Diego or Hawaii!
We also stocked up on portable air conditioners which we loan out for free to customers waiting on parts. It's not uncommon for proprietary OEM (Original Equipment Manufactured) parts needing to be ordered lately – some are being built as needed, some are backordered for weeks or even months! In these cases, we've always had a couple of loaner AC's ready – now we have many more.
What Should You Do?
The most important thing you can do is not wait until you have a problem! Have your air conditioner checked out now…like immediately. This way, any part that's not performing up to manufacturer specifications can be replaced (or at least ordered) before it causes other components to fail. An air conditioning "system" consists of dozens of parts that work together and component failures can have a domino effect. All it takes is one part not being available to result in "No A/C", no matter how insignificant the part may seem.
For people who've been postponing replacing an AC unit that's been acting up… stop procrastinating. Next day AC replacements which were common 2 years ago are a thing of the past! The longer you wait, the less choices you'll have. Air conditioners aren't one size fits all and the "planners" who don't wait for breakdowns are buying the new A/C units as we speak. Everyone I speak with in the industry anticipates the AC shortage will only get much worse this year. I can't even imagine going through a summer without air conditioning in Phoenix, but I think some actually will unfortunately.
Skyrocketing Prices. It's a Supply vs. Demand Economy
Another reason to act now is the rate of price increases we're seeing across the board. While 3-7% price increases each year are the norm. AC Shortages have spurred manufacturer price increases as much as 25% over this time last year. I'm talking about every manufacturer too. The cost of production, freight, raw materials and labor have spiked significantly, and the manufacturers pass those costs on to consumers.
Let's All Hope for a Speedy Recovery
I receive many Emails thanking me for "keeping it real" in our blog articles & social media posts. This one was a tough one to write as it seems like it's all doom & gloom. I too hope to a return to normalcy sometime soon – I've had enough of this all for two lifetimes! We're all in this together so be kind to your fellow humans and help others when you can. We may even have to make up the spare bedroom for some of our neighbors this summer… but let's hope not 😉 !
This Too Shall Pass!
These are unprecedented times and it's easy to become worried about what the future holds. Just remember, we are all in this together and this will hopefully soon be behind us! We wish you all health and happiness!
Sincerely,
Rich Morgan, President – Magic Touch Mechanical