Magic Touch Acquires AC Medic
December 13, 2021
On the last month of our 24th year in business, Magic Touch completed the acquisition of a local HVAC company. Plumbing & AC Medic, Gilbert, AZ & Magic Touch agreed to an alliance which will benefit both their customers & employees. The agreement was finalized in December 2021, notably only weeks before Magic Touch celebrates our 25th anniversary.
Magic Touch Acquires AC Medic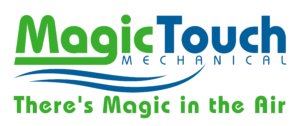 Part of the alliance between the companies included Magic Touch acquiring the 'AC Medic' portion of Plumbing & AC Medic. All employees of Plumbing & AC Medic's HVAC division were invited to join the Magic Touch team, and everyone accepted. We're excited to welcome all our new service technicians, install teams & project managers to the Magic Touch team!
Welcoming Plumbing & AC Medic's employees was intended not just to benefit the employees themselves, but their thousands of loyal customers. AC Medic customers will still get to request their favorite technicians, they'll just arrive in a Magic Touch uniform now.
Welcome Plumbing & AC Medic Customers!
Plumbing & AC Medic Will Soon Be Plumbing Medic
Plumbing Medic & AC Medic isn't going anywhere, they're simply changing their name to Plumbing Medic and focusing solely on plumbing. Over the past 15 years Plumbing Medic has built an extraordinary plumbing business serving the Phoenix Metro area. "Plumbing is our passion," said owners Colby & Dannielle when the idea of forming an alliance was discussed. "We feel our employees and customers would be in better hands with Magic Touch," added Colby. Plumbing Medic is further expanding their plumbing offerings to better serve their customers and this agreement enables them to focus on that.
We Recommend Plumbing Medic
Both companies were interested in forming an alliance as opposed to a traditional acquisition. Magic Touch Mechanical focuses on the comfort, efficiency, and lifestyle aspects of home services; air conditioning, heating, fireplaces & fire pits. Other things we're known for like insulation, air cleaners, mini splits, and window shade screens are offered to enhance the results of your homes performance, efficiency, and air quality.
By forming an alliance with Plumbing Medic, we now have a trustworthy partner to refer our clients to for plumbing. We've known the team at Plumbing Medic for number of years through a best business practice group. Plumbing Medic adheres to the same values, ethics, code of conduct as Magic Touch. Like us, they're also hyper-focused on delivering 5-Star service!
Ultimately, both Magic Touch Mechanical & Plumbing Medic mutual clients now have Phoenix's foremost experts in both plumbing & HVAC at their service!
Plumbing & AC Medic Customers Can Expect More
Since HVAC has been our core service for the last quarter century, Plumbing & AC Medic clients can expect more. For starters, when it comes to HVAC (Heating, Ventilation, & Air Conditioning) there's not much we don't do very well! The list includes a lot of services Plumbing & AC Medic's HVAC department did not offer previously. Here's a glimpse of a few of our HVAC services at Magic Touch:
Central Air & Heating Systems – Repair Service, Replacement, New Installation, & Maintenance
Mini Split Air Conditioners & Heat Pumps – Single Zone, Multi-Zone, & Hybrid Systems
Gas Fireplaces & Outdoor Fire Pits – Repairs, Cleaning, Upgrades, Remodel/Modernization Packages, Remote Controls, Log & Burner Replacement, and Fire Glass
Pool Heaters – Heat Pump Pool Heaters and Gas Pool Heater Repair & Maintenance
Duct Design, Fabrication, and Installation
Air Duct Sealing
Duct Cleaning
More Air Conditioner Brands to Choose From
It's typical for most AC Companies to only offer one or two air conditioner brands to their customers. For Plumbing & AC Medic those brands were limited to Lennox or Daikin. Magic Touch operates very differently in that we offer our clients a multitude of brands to choose from. Every client and home have unique needs and different budgets, goals, and benefits that are important to them. Below is a list of brands Magic Touch Mechanical provides for our clients to choose from.
Lennox
Bosch
Air Temp
Daikin
Goodman
Amana
Franklin
Trane
Rheem
Mitsubishi
Fujitsu
Day & Night
And more!
Pardon Our Dust!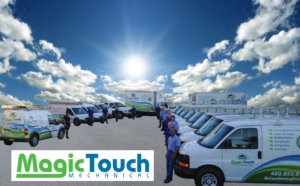 Both the Magic Touch team & Plumbing & AC Medic team are hard at work this week while we transition. All our new team members have already begun onboarding onto the Magic Touch team and their training begins immediately. We have thousands of new customers to get to know and are excited to show them all how we've earned our 5-Star reputation!
Of course, our longtime loyal clients can continue to count on the level of service they've always known from us. To all our new clients, we're excited to meet you and look forward to exceeding your expectations for many years to come!