Fireplace Service Near Mesa – Phoenix AZ
December 13, 2018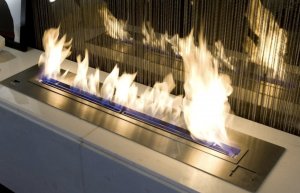 Magic Touch Mechanical has been offering fireplace service near Mesa and the Phoenix AZ area for over two decades. Neglecting to clean and maintain your gas fireplace on an annual basis is a mistake we see too often. Since we use our hearths aka fireplace more for ambiance than we do for heat in Arizona, it's an easy oversight.
Do I Even Need Fireplace Service?
Think about your hearth the same way you would your home's gas furnace. They both consume natural gas or propane and are classified as gas combustion appliances. In a nutshell, that means they burn gas as a fuel source and the unburned fuel is (when working properly) exhausted out of a flue or chimney.
Much like your heating furnace requires annual maintenance, you also need fireplace service prior to using it each year for your own safety. Regular fireplace service not only ensures all components and safety devices are working correctly, it is required to make sure it's venting properly.
Safety aside, fireplace service ensures your hearth is working efficiently and not consuming more gas than required. Think about it like getting your vehicle serviced – an engine that is working efficiently will get higher MPG. With the price of natural gas and propane nowadays, better fuel efficiency means less money you send to your utility provider each month.
Fireplace Service FAQ's
Does Fireplace Service Include Fireplace Cleaning? 
We can only speak for what's included from Magic Touch Mechanical, but yes, we include fireplace cleaning. If you are outside of the Mesa – Phoenix, AZ area, check with your fireplace service company before hiring them. Fireplace cleaning is a very important part of the maintenance procedures of any gas hearth.
Does Fireplace Service Include Chimney Cleaning?
Typically, not. Fuels like propane and natural gas burn much cleaner than wood. Wood burning fireplaces create a buildup of creosote which collects in the chimney or flue. Creosote is like charcoal and therefore highly flammable. Gas fuels burn much cleaner (when proper combustion takes place). So long as you have your fireplace service completed annually, you will most likely never need chimney cleaning.
NOTE: If you have a wood burning fireplace, it's important to have your chimney cleaned regularly before you use it each season. Many house fires are attributed to creosote buildup each year in the U.S.
I Don't Use it Often, Should I Still Get Fireplace Service?
If you never use your fireplace at all, obviously you do not need regular fireplace service. However, if you use it every once in a while, you definitely should get it serviced! Dust and dirt buildup in burner ports is common in seldom used fireplaces. For your home's and family's protection this is not a service that should be overlooked.
How Much Does Fireplace Service Cost?
On average, we've found most fireplace service companies in the Mesa – Phoenix, AZ Metro area charge between $150 to $199.
At the time of writing this post, Magic Touch Mechanical is offering fireplace service & cleaning for only $99 (with this website coupon).
As with any home service, make sure you are comparing apples to apples when comparing fireplace service companies. If you live within 35-miles of Mesa, Arizona, rest assured you get more bang for your buck from Magic Touch Mechanical. We've done our homework to make sure we have the best pricing for more services than our competitors.
If you're not in the Phoenix area, we recommend using a referral website like Angie's List to compare fireplace service companies in your area.